Limited edition tools for writers, designed by Jerry B. Jenkins.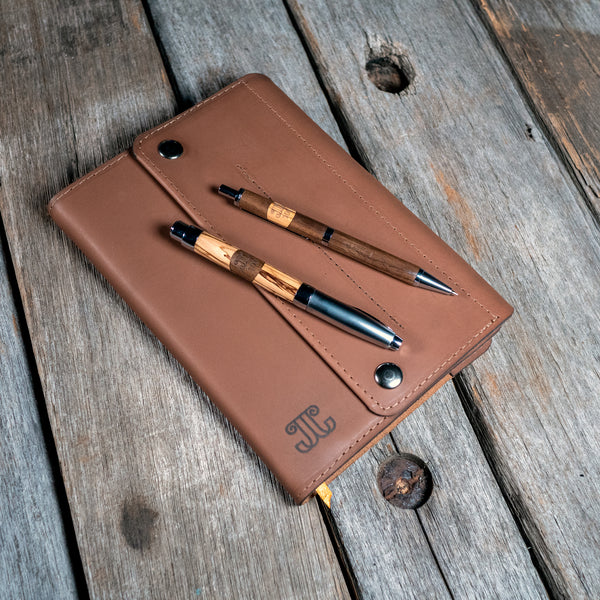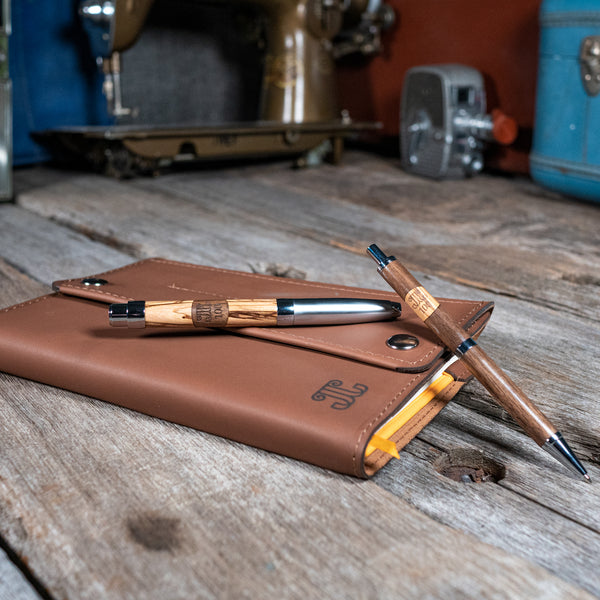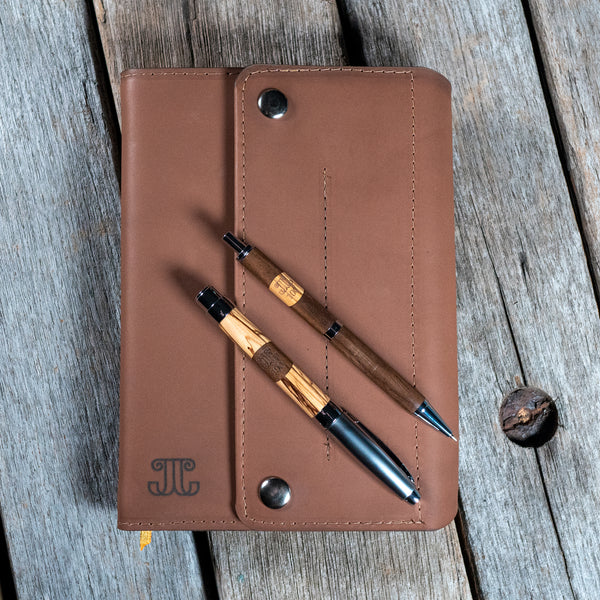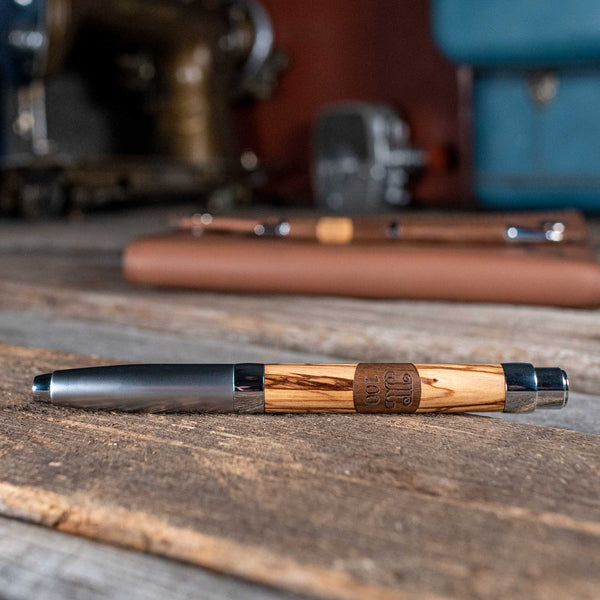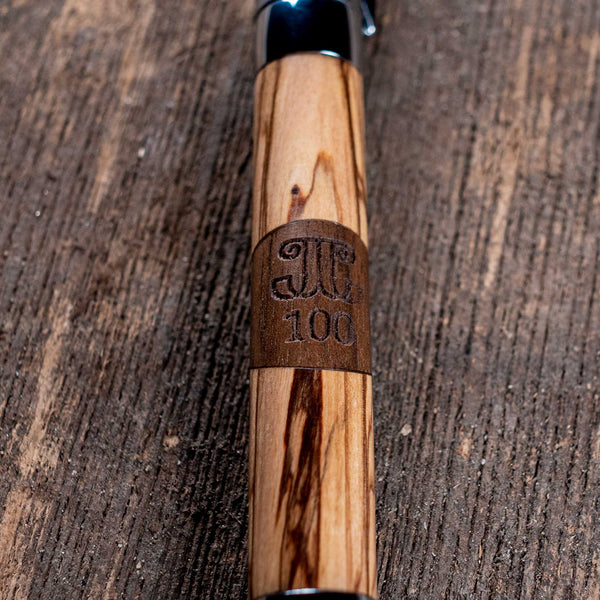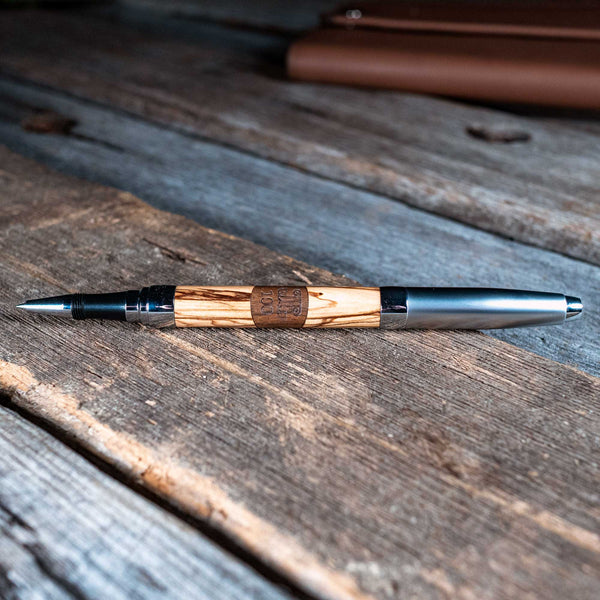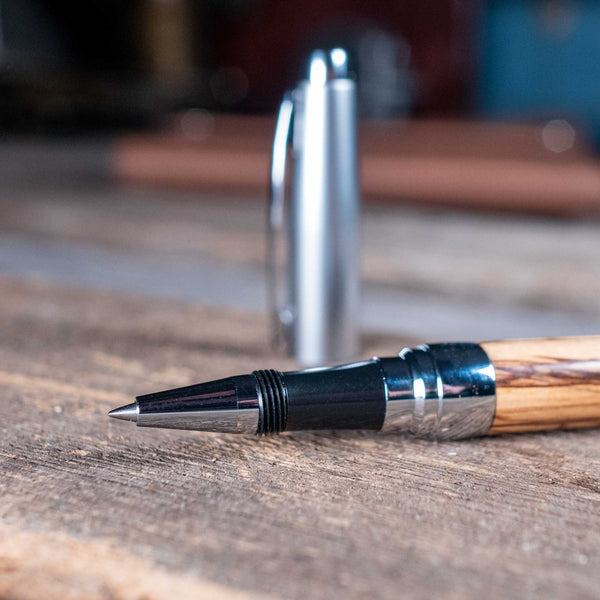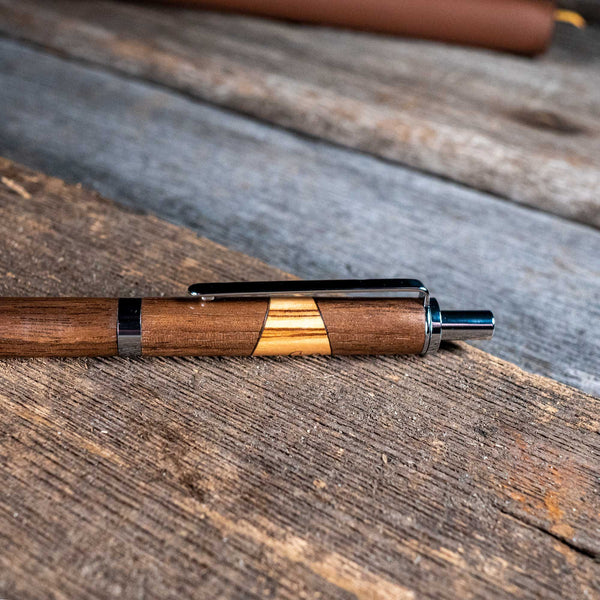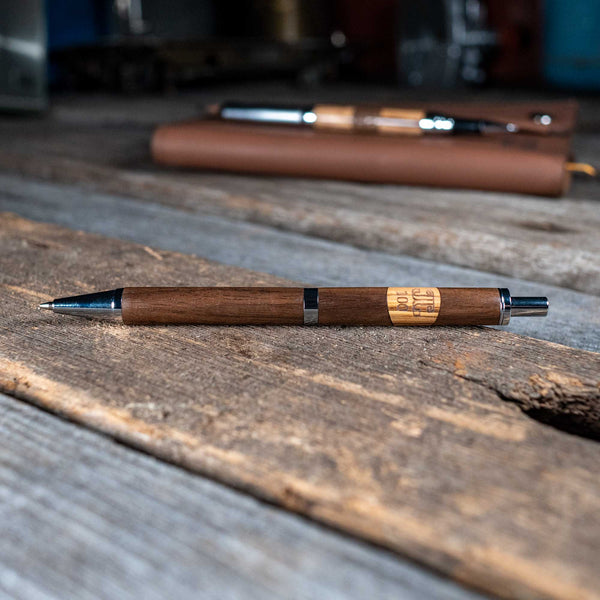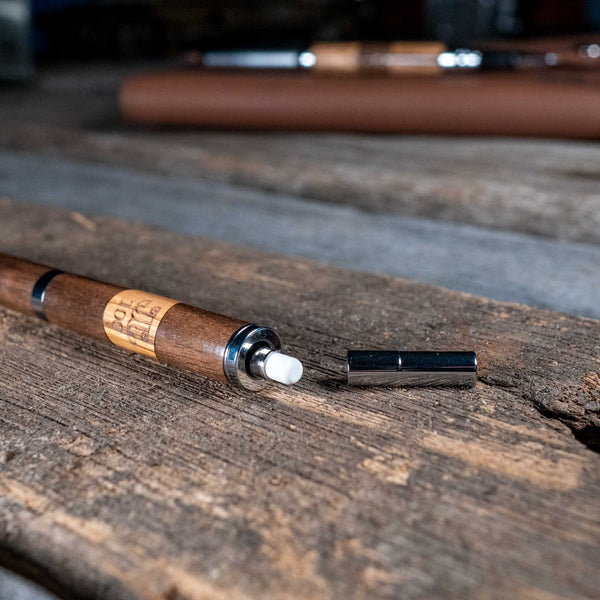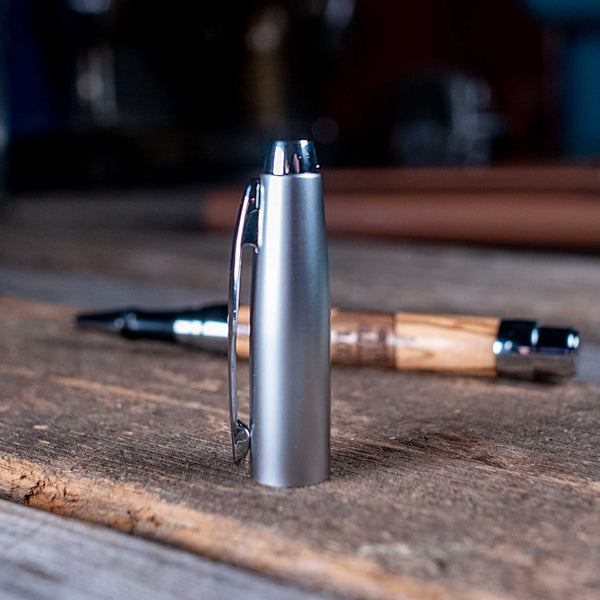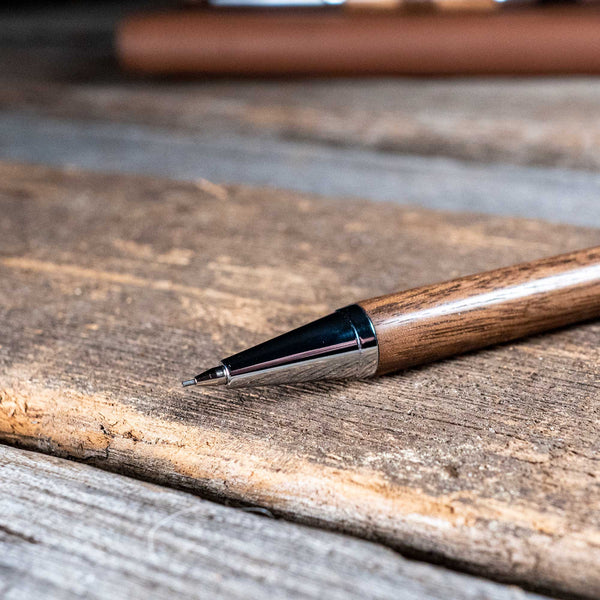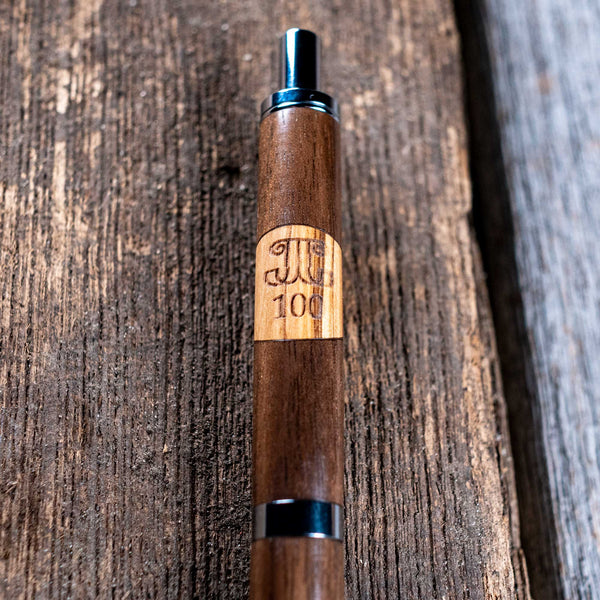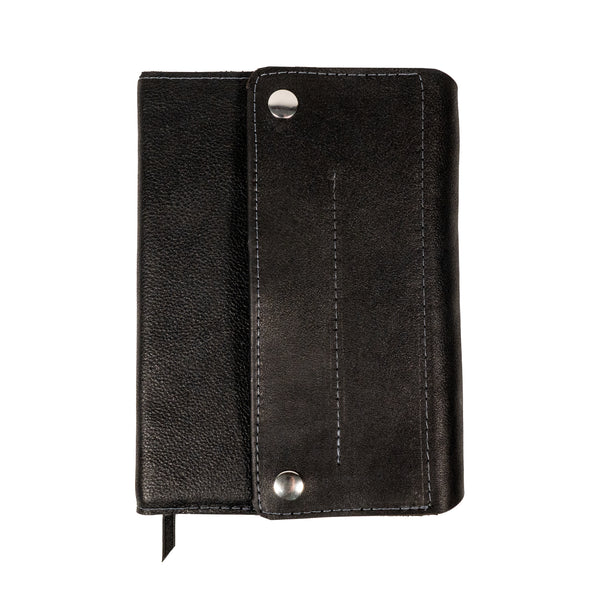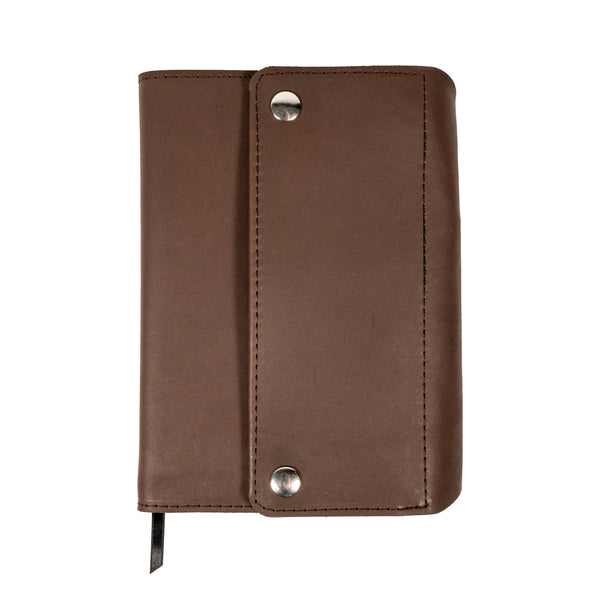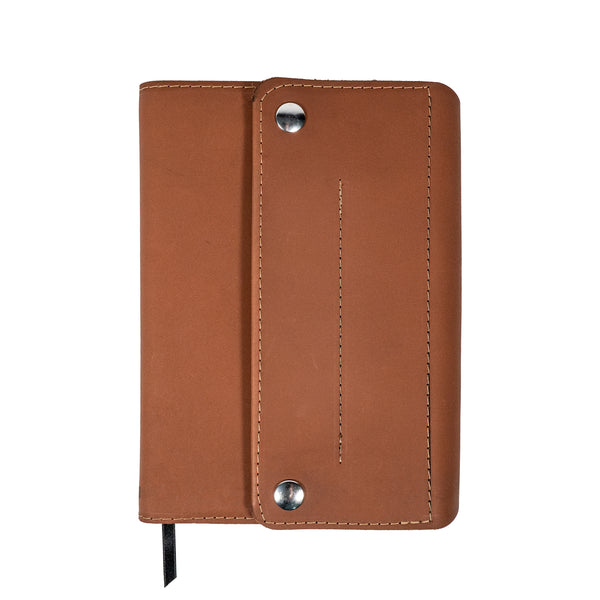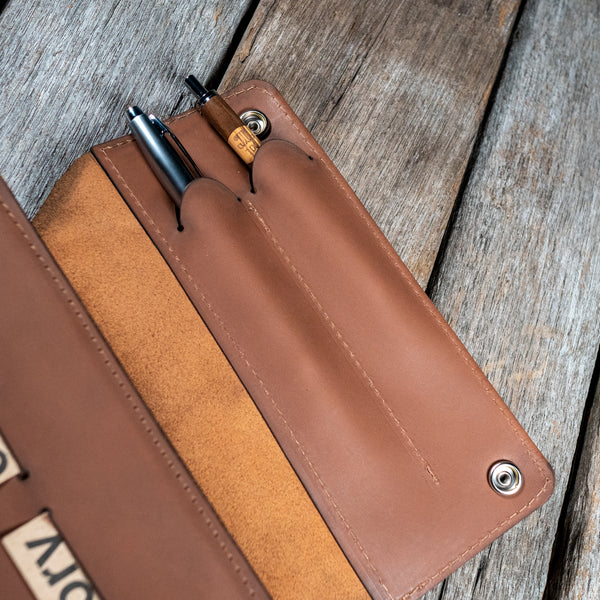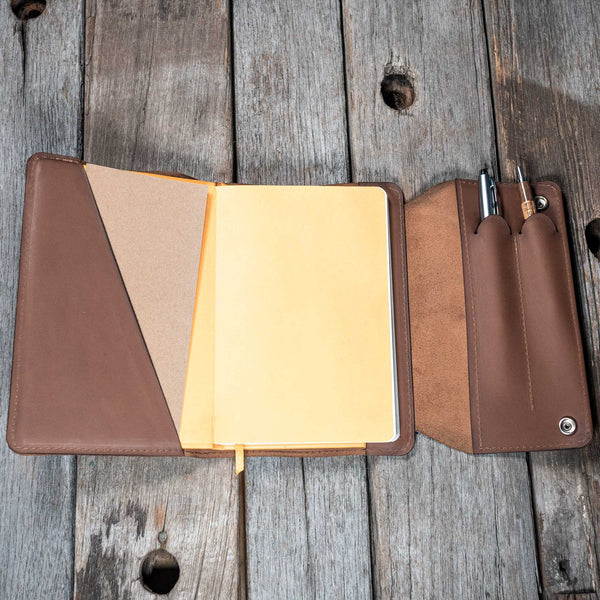 A writing set curated by Jerry B. Jenkins
This limited edition set of writing instruments is designed to inspire and for you to enjoy for years to come. The three-piece set has been curated and designed in a collaboration between bestselling author and writing coach Jerry B. Jenkins and the team at Allegory.
It includes:
An executive rollerball pen, handcrafted from Bethlehem Olivewood and Midwest Reclaimed Walnut to reflect Jerry's faith and his diligent work ethic rooted in his Midwestern upbringing.
A matching mechanical pencil made of the exquisite woods in the pen.
A handcrafted refillable hardcover journal to capture your thoughts, that holds both pen and pencil in convenient leather sleeves.
It's all about the story
Allegory crafts writing instruments from woods with a story, some of which are many thousands of years old, others took part in historical events. Jerry and the Allegory team collaborated to choose woods for the rollerball and mechanical pencil that would connect to his work and teaching.
Bethlehem Olivewood
Olive groves have existed throughout Israel for millennia. Such trees saw biblical history unfold, and they still stand today, witness to the trials faced by the region.
Midwest Reclaimed Walnut
A nod to Jerry's Midwest roots, this walnut has been reclaimed from turn-of-the-century barns. This old-growth timber is a remnant of the great forests that once covered almost all of North America.
Executive Rollerball Features
Metal Cap
Unscrews from the top of the pen and snaps to the bottom for excellent balance while writing.
Limited Edition Numbering
Both pen and pencil are engraved with a limited-edition number and Jerry's logo.
Executive Rollerball

Elegant rollerball includes Schneider Topball 850 refill for a smooth writing experience. Compatible with all 110mm Euro rollerball refills.
Mechanical Pencil Features
Mechanical Pencil
Click-style mechanical pencil uses .5mm lead.
Hidden Eraser
The click piston pulls off to reveal a convenient and replaceable eraser.
Integrated Pocket Clip
Convenient, slim, and stylish.
Refillable Hardcover Journal Features
This leather-bound journal will last a lifetime. It uses premium Rhodia™ A5 webnotebooks for the perfect writing experience.
Refillable for Life
The beautifully handcrafted leather cover adds class to the Rhodia™ refill and gives you the perfect place to record your thoughts as you fill dozens of journals for years to come.
Pen Case Closure
Built right into the snap closure, perfect to hold your limited edition pen and pencil when you're on the go.
Interior Note Pocket
A note pocket inside the front cover for loose-leaf pages.
Card Pockets
Two slits under the snap closure provide a low profile way to store cards.
A note from the author
Isn't there something about pampering yourself — or a loved one — with a real quality set of writing tools?
When I treat myself to something really special, I'm motivated to think and write as never before.
This may not be something for every Christmas list, but if you're like me, you appreciate the highest quality you can afford.
I'm proud to have had a hand in curating these items, and my friends at Allegory Goods really delivered!
Our Guarantee
The simplest and most powerful guarantee we could create.
If we made it, it is guaranteed for life. We will repair or replace anything.
If you buy it, you'll love it. If you don't, we'll work with you until you do, or you can return it for a full refund. 
No questions asked, no paperwork needed.
If you lose it, or it gets destroyed outside of reasonable use, we'll sell you a replacement at half price.
Lots of companies use words like "reasonable use" as a loophole. We don't. Wear and tear is part of reasonable use, and it is covered.
Shoot us a message at service@allegorygoods.com and let us know how we can help.
Shipping
Shipping Information
How long will my order take to arrive?
Our products are handcrafted, mostly to order. We make our smaller pieces in small batches of 10-20 items at a time. Because of the custom, handcrafted nature of our products, it usually takes us 2-3 business days to prepare your order for shipment.
Estimated shipping times begin when your order is shipped and vary by the carrier and service you choose. First-class and ground services usually take up a to a week to deliver to the United States and international first-class services usually take upwards of 3-4 weeks to deliver once we ship your package.
Please note that all carriers are experiencing delivery delays right now. It's important to us that you get your order as quickly as possible, but unfortunately after we drop off your package for shipping the delivery timeline is out of our hands. USPS and FedEx will be your best bet for tracking down information about your package. If you are having trouble getting answers, or if you just want some peace of mind, feel free to shoot us a message with questions or concerns at service@allegorygoods.com.
How much does shipping cost?
We have negotiated rates with USPS and FedEx. The shipping price you'll see reflected at check-out is the actual price we pay to ship to you, no additional mark-up, and we've chosen not just hide the shipping cost in the price of our products. Choose whichever options works best for your budget and delivery timeline. Your shipping fees will be based on the weight of your order. We offer first-class, ground, and expedited shipping options through both USPS and FedEx. Please note, you should still allow time for us to craft your products even with the expedited shipping options (see above).
Which carriers do you

 

use?
We ship with USPS and FedEx.
Do you

 

ship internationally?
Yes! We ship internationally with both USPS and FedEx. If you choose USPS international shipping, your package will be handed off to your local postal system when it enters your country. International customers will be required to pay the applicable import VAT and duties in their home country prior to delivery of their package. 
What if I have special circumstances?
We love that our customers often order from us for special, sometimes last minute gifts! We do our very best to get those packages shipped as quickly as possible so they can arrive in time. If you have a special circumstance please email us at service@allegorygoods.com. We haven't missed a deadline yet!
Wish I could give 6 stars!
Best personal item I own! Love it, love it, love it! Loved working with Jessica and other staff. I deeply appreciate the personalization. I am writing a memoir about my tour in the Vietnam War, the aftermath, and the ultimate reconciliation. Note in the pic below the engraving of Japanese Torii, our regimental logo. Also, note that the pen was engraved with 101 for 101st Airborne Division. How cool!
My daughter loves it
On Christmas Eve we opened our presents, and when my daughter, Ginger, saw the set she was delighted. She couldn't believe the craftsmanship, and the pen/pencil with the quality woods enthralled her. She has a heart of Israel, and when she saw the olive wood she could hardly contain her joy. This is worth evey penny I paid for it to see the delight on the face of my daughter.