The Ancients Series | Machined EDC Click Pen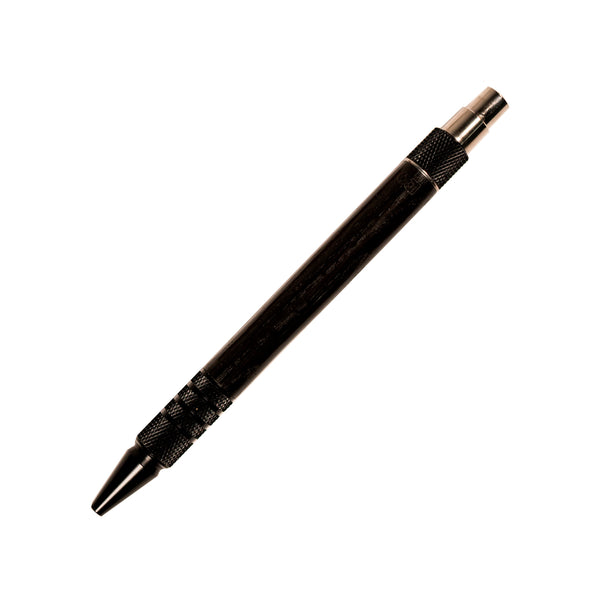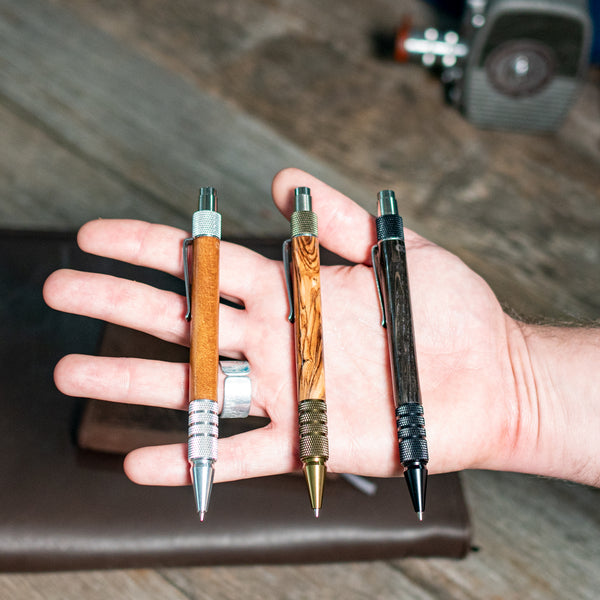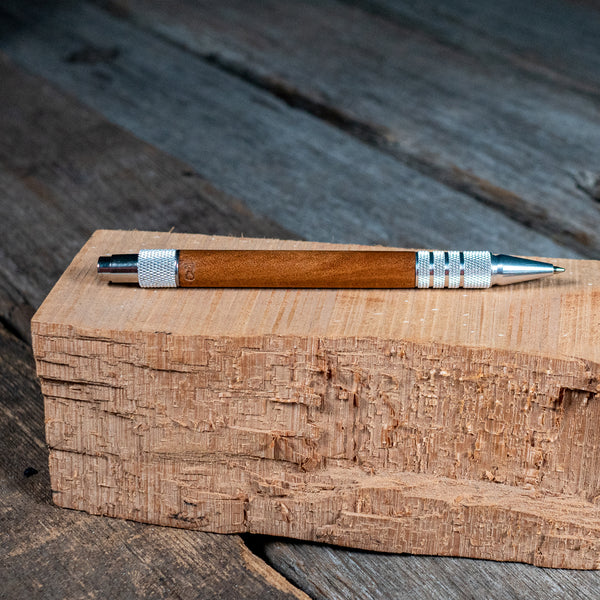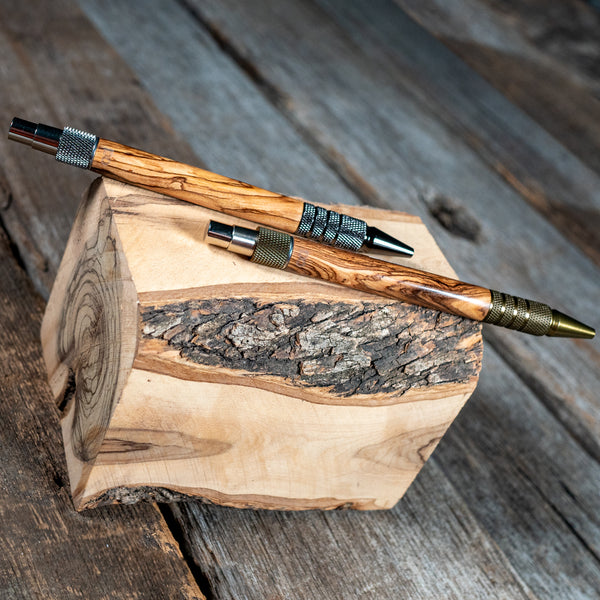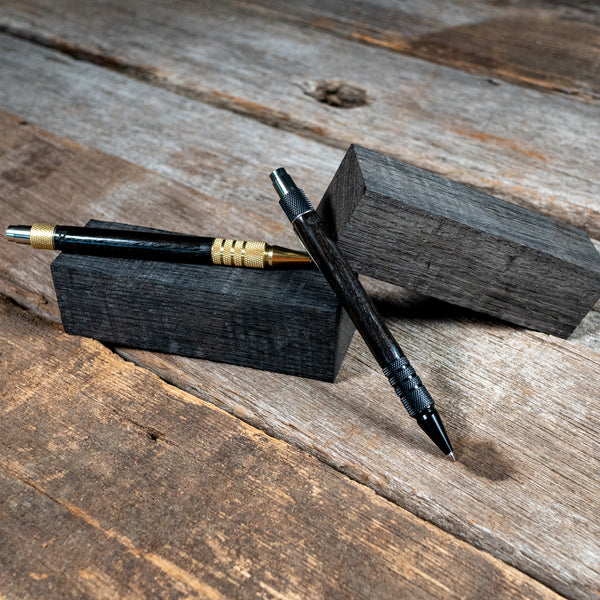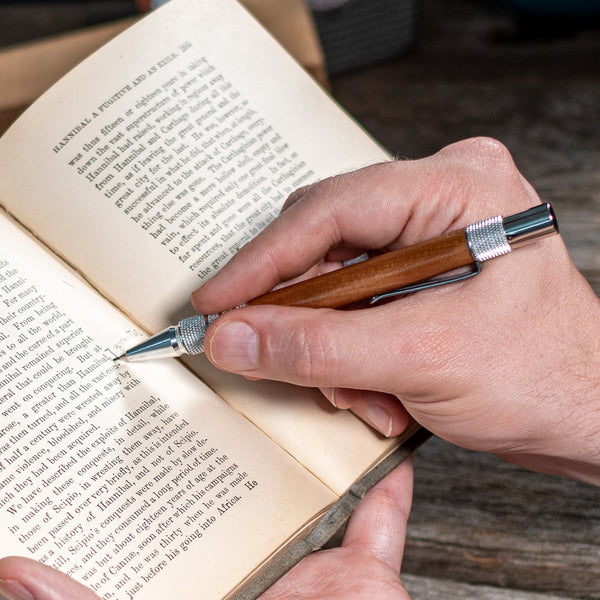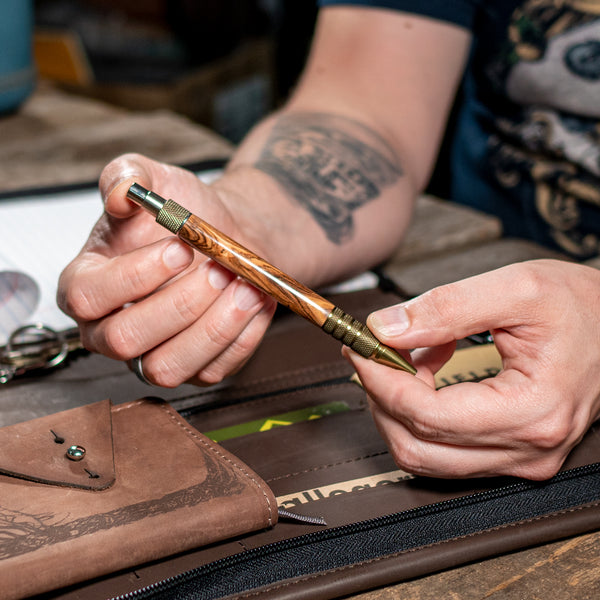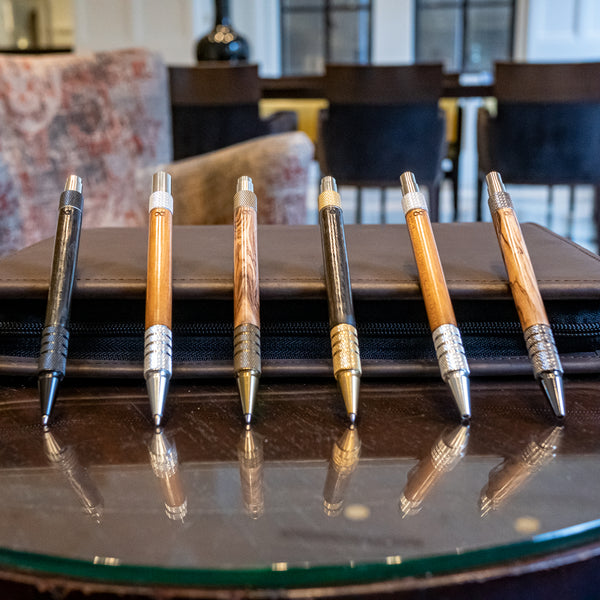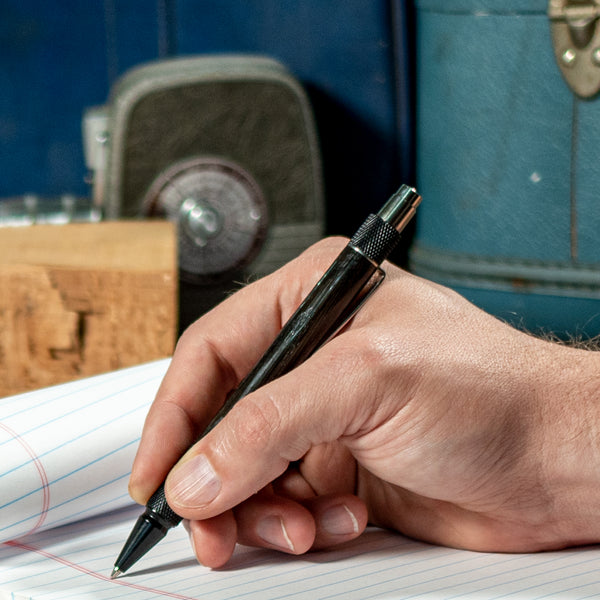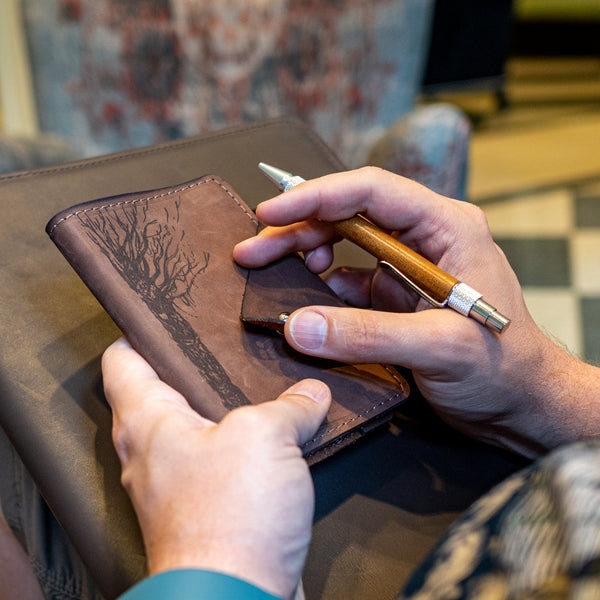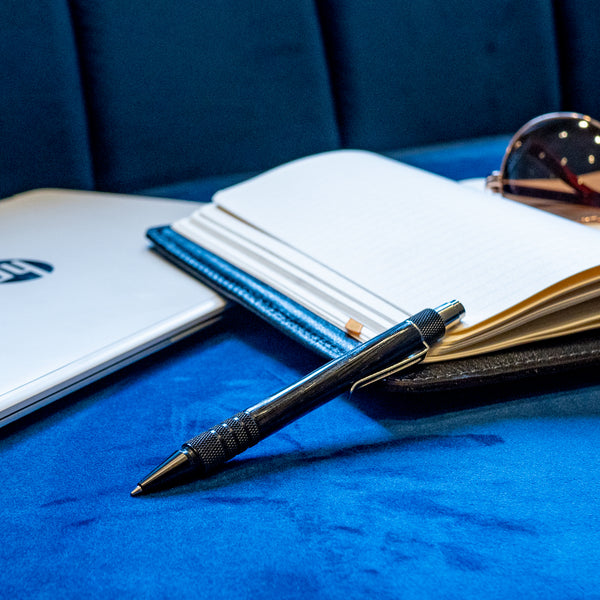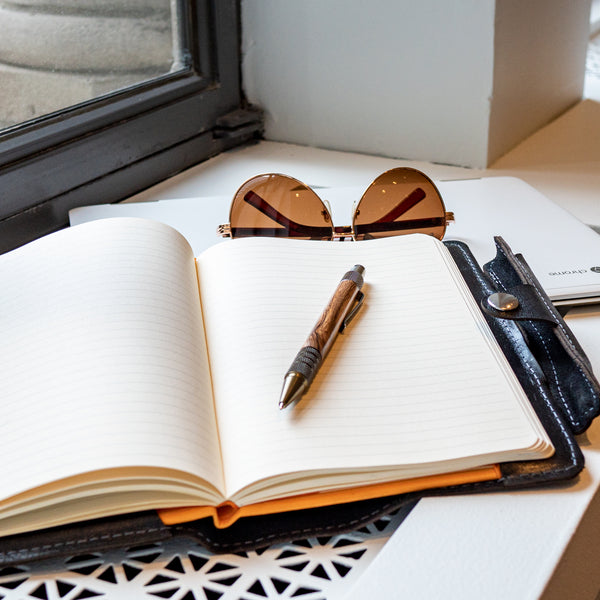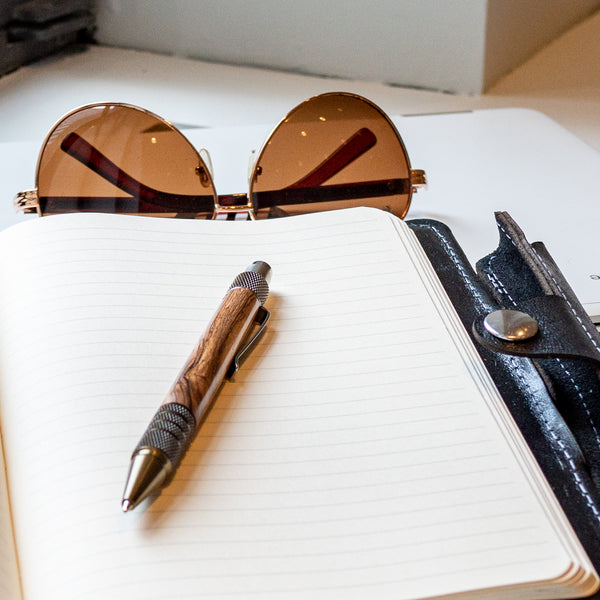 All metal click pen with body crafted from ancient, reclaimed wood.
Holding something that is thousands, or tens of thousands years old gives us perspective on how small and precious our moments, days, and years are. When wood that ancient is handcrafted into a writing tool, it lets us focus on leaving our mark. The Ancients Series crafts three woods that have witnessed the whole of human history (and then some) into a tool that fits perfectly into your daily life.
All of our ancient woods come from trees that fell thousands of years ago or trimmings from ancient trees that are still standing. Reclaiming wood is best for our forests, and the stories are better, too.
Made with your choice of ancient woods from 3,000-50,000 years old. Read their stories below.
Precision-machined body of solid aluminum or brass is lightweight and extremely durable.
German-made, full metal click mechanism by Schmidt.
Refill with Parker style refills.Tons of options and very easy to find.
Made in Chicago and guaranteed for life.
A story spanning millennia
Check out this brief timeline that sets each of the three ancient woods in the context of human history, and learn what was happening in the world when these trees were alive!
Ancient Kauri
It's called ancient kauri, and it's up to 50,000 years old. Yes, 50,000! The oldest workable wood in the world, ancient kauri shows just the earliest signs of petrification. Called "whitebait," this phenomenon creates small veins of mineral deposits that give the wood a one-of-a-kind luminescence.
50,000 years ago, in what is now Northern New Zealand, a major natural event felled huge forests of kauri trees that had been growing for some 2,000 years. This event also created bogs in the area that protected these giants from the elements. Today these trees are typically found under farmland from which they are carefully excavated before the ground is returned to its previous contours.
Just for some perspective, here are a few things that happened on Earth less than 50,000 years ago…
16,000 years ago the depressions that would become the Great Lakes were fully formed.
The last Ice Age ended approximately 5,000 years ago.
Homo Sapiens reached the area from which these trees were recovered only around 40,000 years ago.
Bog Oak
No, this wood isn't stained black. 5,000 years in a peat bog in the Ukraine have naturally turned these huge, ancient oak trees black all the way through.
At the end of the last ice age rising water levels caused huge oak forests throughout Europe to die standing and fall into the muck. For the last 3,500 - 5,000 years these trees have been preserved in anaerobic conditions underneath peat bogs.
The ages have turned bog oak a deep black with dark brown grain. This is the result of a chemical reaction that occurred between the tannins in the oak and soluble irons present in the bog soil.
Bethlehem Olivewood
Each piece of this gorgeous wood is completely unique. The beautiful grain of Bethlehem olivewood can be straight, curly, dark, light, swirling... You get the gist.
Throughout Israel there are olive groves that have grown for over 2,000 years. These trees saw Rome rise and eventually fall. They watched much of Biblical history unfold, and they still stand today to bear witness to the trials faced by the region.
These trees are highly protected; those who maintain them gather branch trimmings and deadfall and make them available to tourists and woodworkers.
Our Guarantee
The simplest and most powerful guarantee we could create.
If we made it, it is guaranteed for life. We will repair or replace anything.
If you buy it, you'll love it. If you don't, we'll work with you until you do, or you can return it for a full refund. 
No questions asked, no paperwork needed.
If you lose it, or it gets destroyed outside of reasonable use, we'll sell you a replacement at half price.
Lots of companies use words like "reasonable use" as a loophole. We don't. Wear and tear is part of reasonable use, and it is covered.
Shoot us a message at service@allegorygoods.com and let us know how we can help.
Shipping
Shipping Information
How long will my order take to arrive?
Our products are handcrafted, mostly to order. We make our smaller pieces in small batches of 10-20 items at a time. Because of the custom, handcrafted nature of our products, it usually takes us 2-3 business days to prepare your order for shipment.
Estimated shipping times begin when your order is shipped and vary by the carrier and service you choose. First-class and ground services usually take up a to a week to deliver to the United States and international first-class services usually take upwards of 3-4 weeks to deliver once we ship your package.
Please note that all carriers are experiencing delivery delays right now. It's important to us that you get your order as quickly as possible, but unfortunately after we drop off your package for shipping the delivery timeline is out of our hands. USPS and FedEx will be your best bet for tracking down information about your package. If you are having trouble getting answers, or if you just want some peace of mind, feel free to shoot us a message with questions or concerns at service@allegorygoods.com.
How much does shipping cost?
We have negotiated rates with USPS and FedEx. The shipping price you'll see reflected at check-out is the actual price we pay to ship to you, no additional mark-up, and we've chosen not just hide the shipping cost in the price of our products. Choose whichever options works best for your budget and delivery timeline. Your shipping fees will be based on the weight of your order. We offer first-class, ground, and expedited shipping options through both USPS and FedEx. Please note, you should still allow time for us to craft your products even with the expedited shipping options (see above).
Which carriers do you

 

use?
We ship with USPS and FedEx.
Do you

 

ship internationally?
Yes! We ship internationally with both USPS and FedEx. If you choose USPS international shipping, your package will be handed off to your local postal system when it enters your country. International customers will be required to pay the applicable import VAT and duties in their home country prior to delivery of their package. 
What if I have special circumstances?
We love that our customers often order from us for special, sometimes last minute gifts! We do our very best to get those packages shipped as quickly as possible so they can arrive in time. If you have a special circumstance please email us at service@allegorygoods.com. We haven't missed a deadline yet!