Revolución A5 Journal | Refillable Leather Cover for A5 Notebooks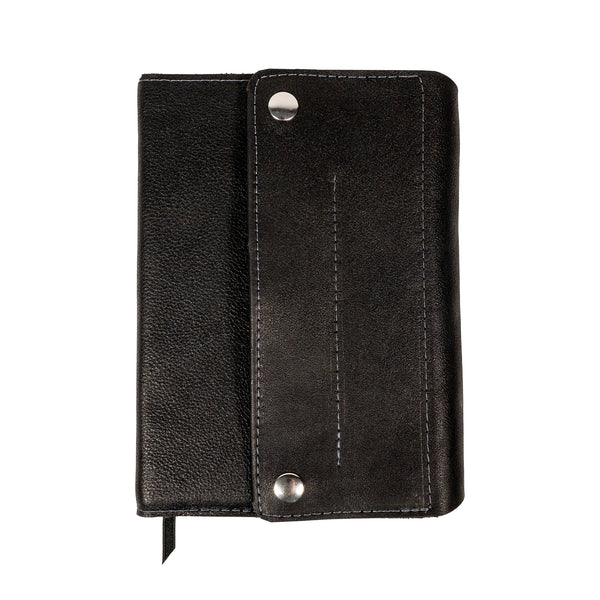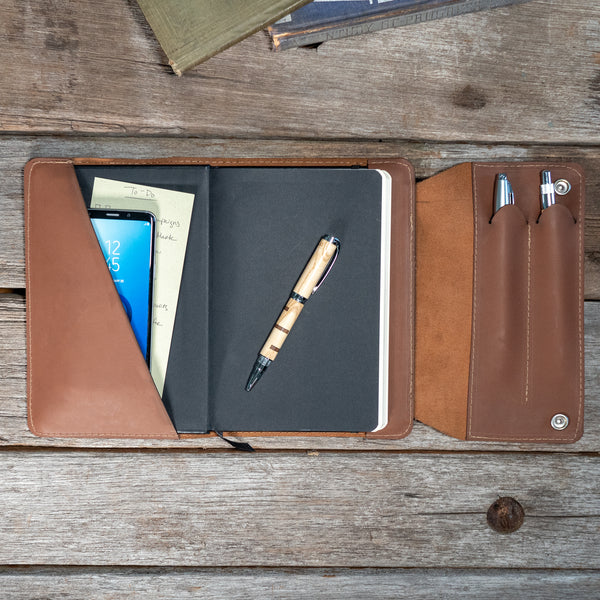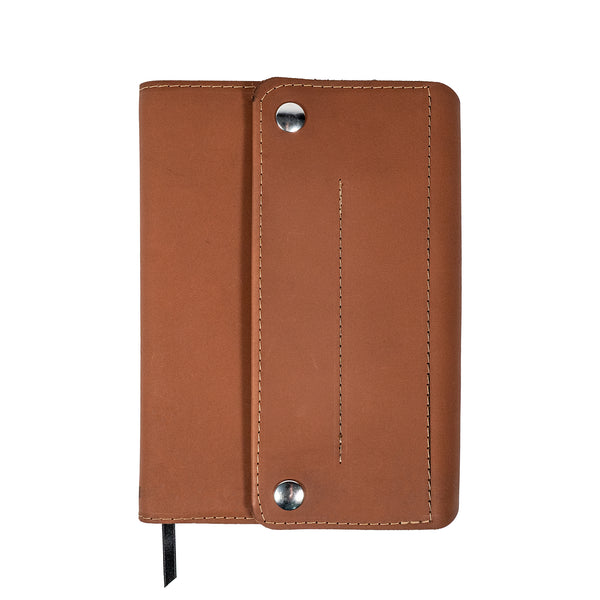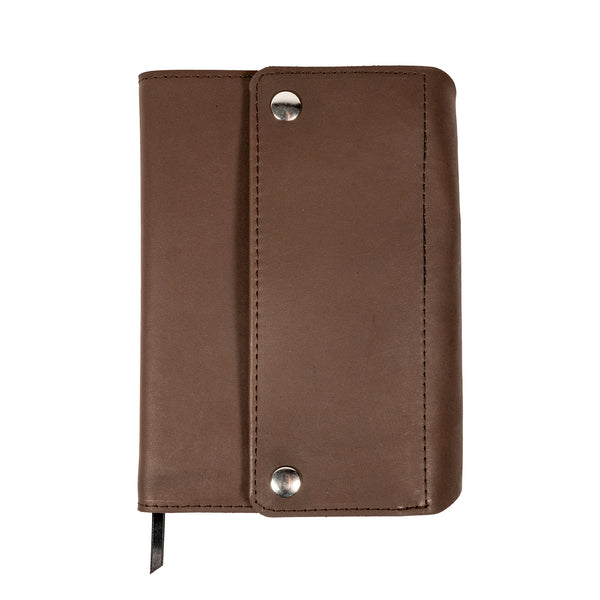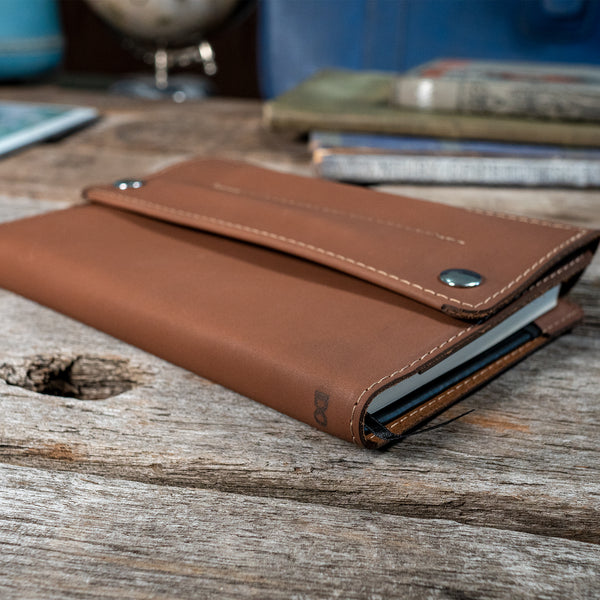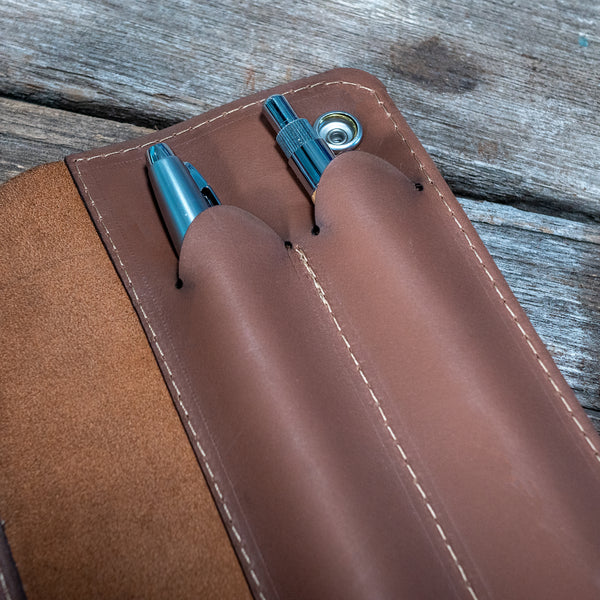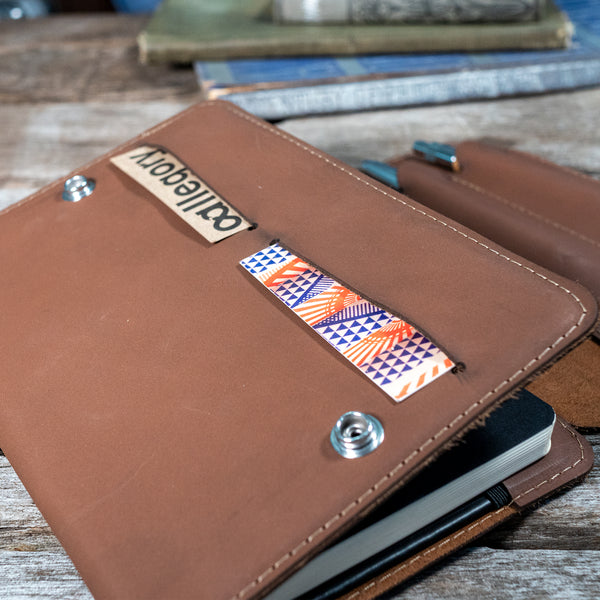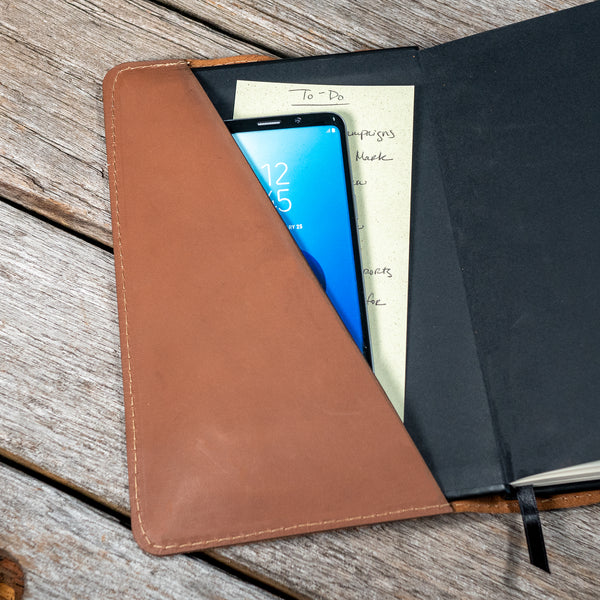 Handmade leather journal. Special edition refillable A5 notebook cover.
Made in the USA with full-grain Ecuadorian latigo leather, the Revolución A5 Notebook Cover adds protection and luxury to your favorite A5 hardcover notebook. It features a snap-button closure and integrated pen sleeve or zipper pocket, as well as internal flaps to secure the notebook and a slot for business cards or a packet of your post-its.
Two-pen case or zipper pocket built into closure.
Pairs beautifully with our Revolucion II Pen Set.
Business card pockets under front closure. Note pocket inside front cover.
Made in Chicago and guaranteed for life.
Our Guarantee
The simplest and most powerful guarantee we could create.
If we made it, it is guaranteed for life. We will repair or replace anything.
If you buy it, you'll love it. If you don't, we'll work with you until you do, or you can return it for a full refund. 
No questions asked, no paperwork needed.
If you lose it, or it gets destroyed outside of reasonable use, we'll sell you a replacement at half price.
Lots of companies use words like "reasonable use" as a loophole. We don't. Wear and tear is part of reasonable use, and it is covered.
Shoot us a message at service@allegorygoods.com and let us know how we can help.
Shipping
Shipping Information
How long will my order take to arrive?
Our products are handcrafted, mostly to order. We make our smaller pieces in small batches of 10-20 items at a time. Because of the custom, handcrafted nature of our products, it usually takes us 2-3 business days to prepare your order for shipment.
Estimated shipping times begin when your order is shipped and vary by the carrier and service you choose. First-class and ground services usually take up a to a week to deliver to the United States and international first-class services usually take upwards of 3-4 weeks to deliver once we ship your package.
Please note that all carriers are experiencing delivery delays right now. It's important to us that you get your order as quickly as possible, but unfortunately after we drop off your package for shipping the delivery timeline is out of our hands. USPS and FedEx will be your best bet for tracking down information about your package. If you are having trouble getting answers, or if you just want some peace of mind, feel free to shoot us a message with questions or concerns at service@allegorygoods.com.
How much does shipping cost?
We have negotiated rates with USPS and FedEx. The shipping price you'll see reflected at check-out is the actual price we pay to ship to you, no additional mark-up, and we've chosen not just hide the shipping cost in the price of our products. Choose whichever options works best for your budget and delivery timeline. Your shipping fees will be based on the weight of your order. We offer first-class, ground, and expedited shipping options through both USPS and FedEx. Please note, you should still allow time for us to craft your products even with the expedited shipping options (see above).
Which carriers do you

 

use?
We ship with USPS and FedEx.
Do you

 

ship internationally?
Yes! We ship internationally with both USPS and FedEx. If you choose USPS international shipping, your package will be handed off to your local postal system when it enters your country. International customers will be required to pay the applicable import VAT and duties in their home country prior to delivery of their package. 
What if I have special circumstances?
We love that our customers often order from us for special, sometimes last minute gifts! We do our very best to get those packages shipped as quickly as possible so they can arrive in time. If you have a special circumstance please email us at service@allegorygoods.com. We haven't missed a deadline yet!
Beautiful craftsmanship that will last forever
These journals are just gorgeous. I have two, one in black and one in saddle, to house letters to my late parents. Chad and Jessica worked with me to make sure the leather and design I chose were just right for something so personal - they really lived their brand through their personal and caring customer service. On both, I got the zipper pocket and double button closure. The journals are a pleasure to carry and write in, both because they age so beautifully, and because they are so functional. Pockets for notes or idea cards, a zipper for my favorite pens, and a high quality notebook - it makes these into heirloom-level possessions that hold my memories in a special way.
Great Quality!
Super pleased with this purchase!
Good quality. Design comes up short.
Nice leather quality. Like how soft and supple it is. Not the biggest fan of the double button closure. Would prefer a single button or some sort of clasp closure instead. Also because of how close the outer pen/pencil holding slot is to the upper button, you cannot both use the pen slot and use the upper button closure, which kind of defeats the purpose of having two pen slots. Would definitely recommend getting the zipper closure option or else the frost journal with its single pen sot.
The perfect meeting companion
Two pens, a notebook. The whole thing protected by a beautiful leather cover. Going to meetings with this original and well crafted journal cover is extremely satisfactory. Can't wait for the next one!!
Legacy Leather
I will not go into the details of the design, because in it's self is an adventure. But my parents were leather workers at a point. I have works from both. My father gave me his leather was, with Chinese keys on it, which was patina in his pocket. Two thief's tried to steal it from him getting on the bus, but grabbed it before one pulled it out of his pocket. The leather is much thinner then this, I can carry this by hand or in my tactical Fanny pack with kindle, extra glasses, you know all myTibetan la EDC. Everything for reading and writing in my Bullet journal method. As a BuJo newbie I am doing a flurry of notes these days, my BuJo is always open. Like my father's patina leather legacy, this is my patina, even if I have other leather supplies, but probably will not patina like my father's wallet.