The Troubadour | Twist Retractable Ballpoint Pen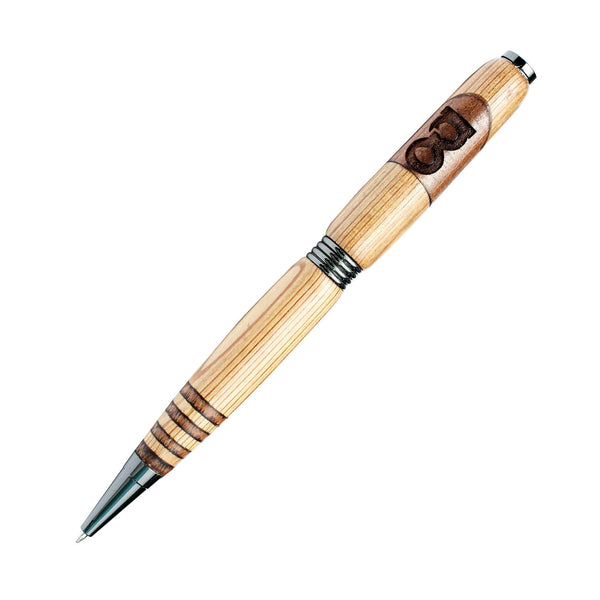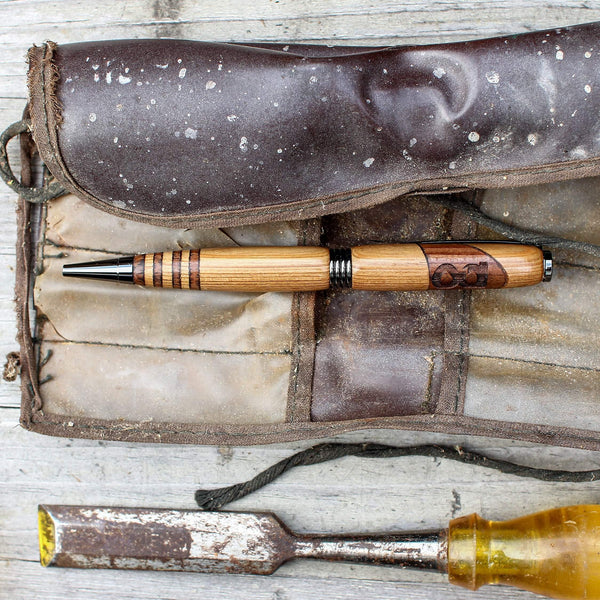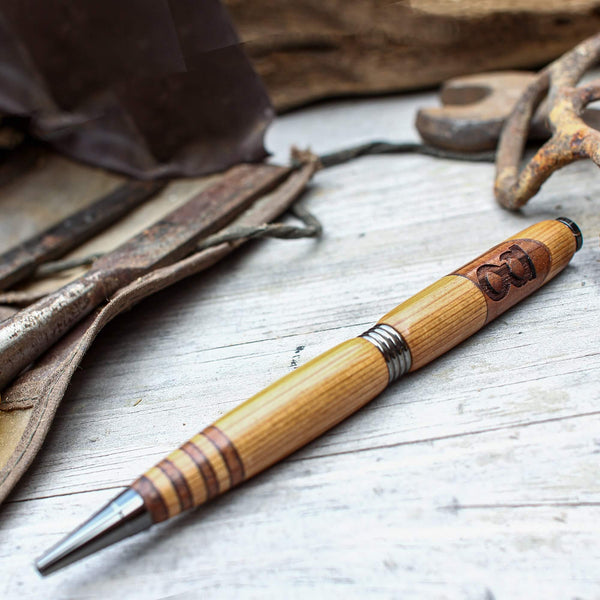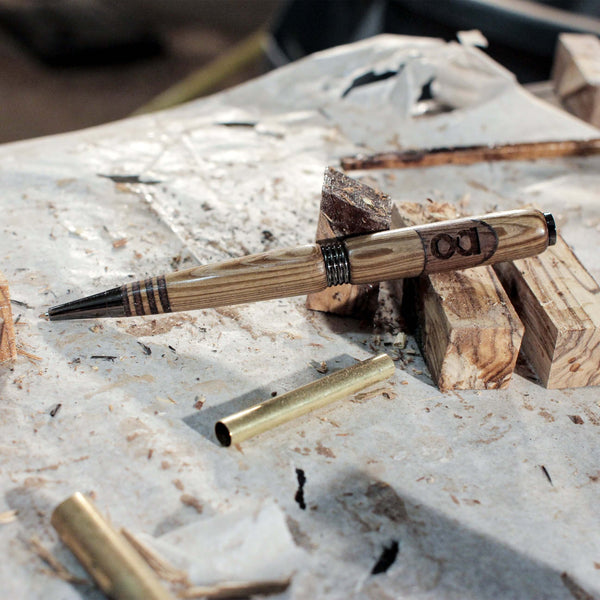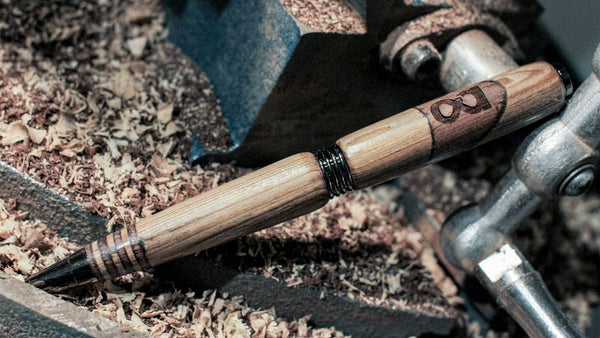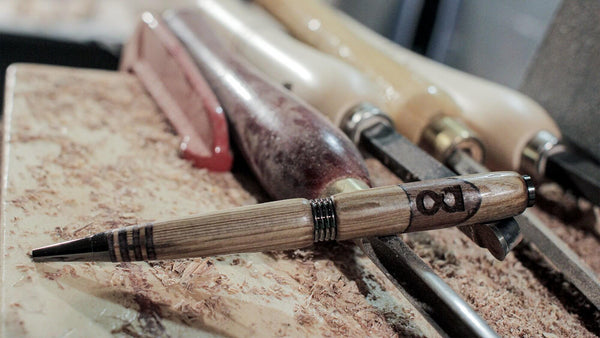 Twist-retractable ballpoint made with reclaimed woods.
The Troubadour has a slim, balanced design with a twist mechanism. The woods in this pen harken back to the era of the pioneers, and its design is ready to hit the road and compose your next adventure.
Sinker cypress that spent a century at the bottom of the Mississippi River, a recovered relic from the days of river logging.
Old-growth redwood reclaimed from decommissioned pickling vats.
Slim profile and twist mechanism.
Cross style refills offer tons of options for your writing experience.
Handmade in Chicago and guaranteed for life.
Sinker Cypress
Prior to the onset of modern industry and logistics, loggers practiced log driving, where floating logs down river to a temporary sawmill was the first step in the process of creating lumber. The term "lumberjack" comes from this process. Occasionally logs would sink and become trapped in the silt at the bottom of the river. If enough silt was laid down before rot and erosion set in, the log was preserved.
Today these century-old remnants of pre-industrial America are recovered from the bottoms of river beds, becoming one of the most sought-after varieties of reclaimed lumber on the market.
Picklewood Redwood
Prior to the onset and broad adoption of refrigeration technology, food preservation was a much more complex task. Pickling was a primary method of food preservation and a lifeline for many homes. Large amounts of lumber were required to construct pickling vats.
Today these vats are no longer needed in such large quantities, and they provide an excellent source of reclaimed lumber. The compounds used in the pickling process add beautiful character to the wood,  evident in our picklewood redwood's beautiful deep red/brown tone.
Our Guarantee
The simplest and most powerful guarantee we could create.
If we made it, it is guaranteed for life. We will repair or replace anything.
If you buy it, you'll love it. If you don't, we'll work with you until you do, or you can return it for a full refund. 
No questions asked, no paperwork needed.
If you lose it, or it gets destroyed outside of reasonable use, we'll sell you a replacement at half price.
Lots of companies use words like "reasonable use" as a loophole. We don't. Wear and tear is part of reasonable use, and it is covered.
Shoot us a message at service@allegorygoods.com and let us know how we can help.
Shipping
Shipping Information
How long will my order take to arrive?
Our products are handcrafted, mostly to order. We make our smaller pieces in small batches of 10-20 items at a time. Because of the custom, handcrafted nature of our products, it usually takes us 2-3 business days to prepare your order for shipment.
Estimated shipping times begin when your order is shipped and vary by the carrier and service you choose. First-class and ground services usually take up a to a week to deliver to the United States and international first-class services usually take upwards of 3-4 weeks to deliver once we ship your package.
Please note that all carriers are experiencing delivery delays right now. It's important to us that you get your order as quickly as possible, but unfortunately after we drop off your package for shipping the delivery timeline is out of our hands. USPS and FedEx will be your best bet for tracking down information about your package. If you are having trouble getting answers, or if you just want some peace of mind, feel free to shoot us a message with questions or concerns at service@allegorygoods.com.
How much does shipping cost?
We have negotiated rates with USPS and FedEx. The shipping price you'll see reflected at check-out is the actual price we pay to ship to you, no additional mark-up, and we've chosen not just hide the shipping cost in the price of our products. Choose whichever options works best for your budget and delivery timeline. Your shipping fees will be based on the weight of your order. We offer first-class, ground, and expedited shipping options through both USPS and FedEx. Please note, you should still allow time for us to craft your products even with the expedited shipping options (see above).
Which carriers do you

 

use?
We ship with USPS and FedEx.
Do you

 

ship internationally?
Yes! We ship internationally with both USPS and FedEx. If you choose USPS international shipping, your package will be handed off to your local postal system when it enters your country. International customers will be required to pay the applicable import VAT and duties in their home country prior to delivery of their package. 
What if I have special circumstances?
We love that our customers often order from us for special, sometimes last minute gifts! We do our very best to get those packages shipped as quickly as possible so they can arrive in time. If you have a special circumstance please email us at service@allegorygoods.com. We haven't missed a deadline yet!
THE TROUBADOUR | TWIST RETRACTABLE BALLPOINT PEN
The pen is really a piece of art. I bought it for my wife as a birthday present. She loves it.
Great pens from a great company
I was not so sure what to think when I saw the first Kickstarter port from Allegory, but I do always like unique pens so I figured I would give it a chance. I am glad I did as every pen and product I have gotten from them have been so special and unique.