The Revolución | Limited Edition Pen & Pencil Set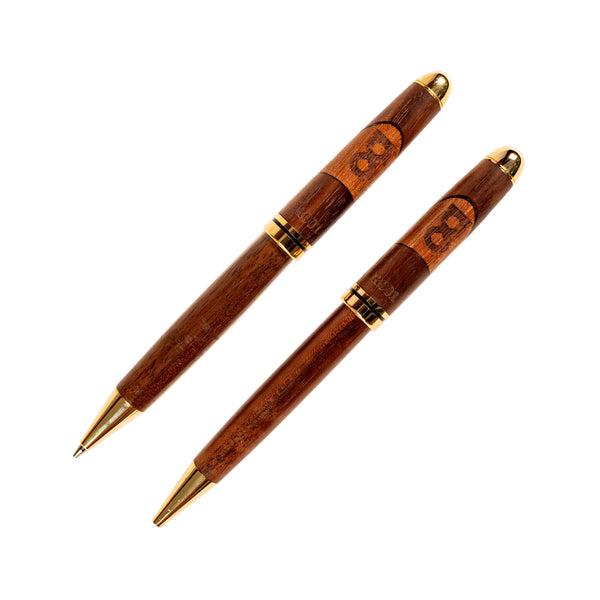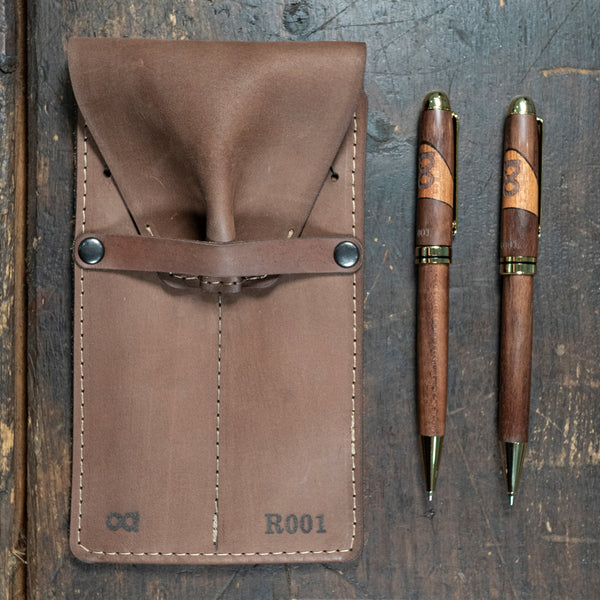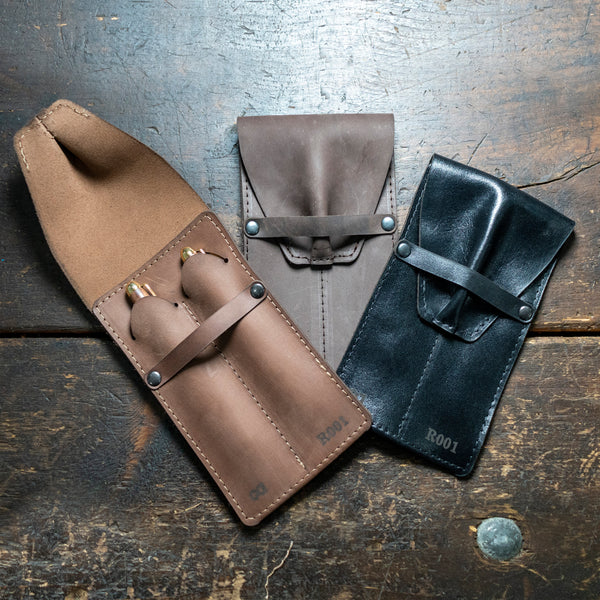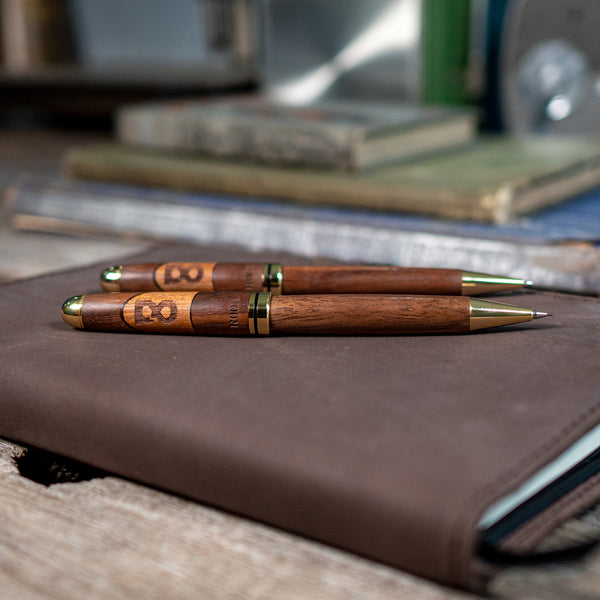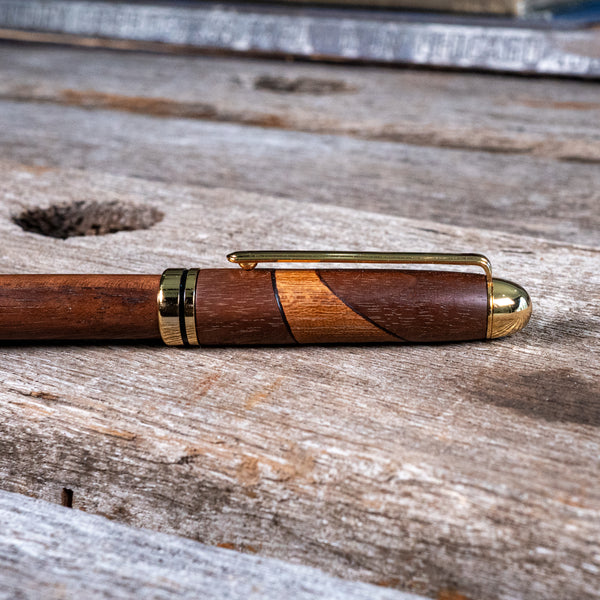 Refined pen and pencil set made with wood stolen during the Cuban Revolution.
We transformed this rare, old-growth Cuban mahogany that was stolen by those fleeing the reach of the incoming Castro regime into a classic pen and pencil set. This numbered, limited edition pen also features a leather carry case and signed certificate of authenticity.
Cuban Revolution mahogany inlay.
Slim to medium barrel with excellent balance and classic luxury silhouette.
Leather carry case.
Ballpoint features Cross style refills and twist retractable action.
Mechanical pencil feature German-made twist action by Schmidt and an eraser concealed in the back barrel.
Handmade in Chicago and guaranteed for life.
The Story
In 1959 as Castro was taking power in Cuba, people who were connected to the previous Batista government fled the island by any means. Their fear of reprisal pushed them to beg, borrow, or steal any method of transportation they could find. Many people stole or stowed away on cargo ships, presenting a problem for the ports in the US that had to figure out what to do with all the stolen cargo. They certainly didn't want to return it to Castro, so in the end they decided to auction it off. A few boards of rare Cuban mahogany included in these auctions eventually made it into our hands over 50 years later.
Feature Spotlight
Twist Retractable Ballpoint
Twist action ballpoint with Cross style refills provides a refined writing experience and tons of options.
Twist Action Mechanical Pencil
Twist-click action made by leading German manufacturer Schmidt. Integrated eraser and 0.5 mm lead.
Pocket Clip
Both the ballpoint and mechanical pencil have an integrated pocket clip.
Leather Case
The set includes a leather two-pen case in your color choice, engraved with the limited edition serial number.
Our Guarantee
The simplest and most powerful guarantee we could create.
If we made it, it is guaranteed for life. We will repair or replace anything.
If you buy it, you'll love it. If you don't, we'll work with you until you do, or you can return it for a full refund. 
No questions asked, no paperwork needed.
If you lose it, or it gets destroyed outside of reasonable use, we'll sell you a replacement at half price.
Lots of companies use words like "reasonable use" as a loophole. We don't. Wear and tear is part of reasonable use, and it is covered.
Shoot us a message at service@allegorygoods.com and let us know how we can help.
Shipping
Shipping Information
How long will my order take to arrive?
Our products are handcrafted, mostly to order. We make our smaller pieces in small batches of 10-20 items at a time. Because of the custom, handcrafted nature of our products, it usually takes us 2-3 business days to prepare your order for shipment.
Estimated shipping times begin when your order is shipped and vary by the carrier and service you choose. First-class and ground services usually take up a to a week to deliver to the United States and international first-class services usually take upwards of 3-4 weeks to deliver once we ship your package.
Please note that all carriers are experiencing delivery delays right now. It's important to us that you get your order as quickly as possible, but unfortunately after we drop off your package for shipping the delivery timeline is out of our hands. USPS and FedEx will be your best bet for tracking down information about your package. If you are having trouble getting answers, or if you just want some peace of mind, feel free to shoot us a message with questions or concerns at service@allegorygoods.com.
How much does shipping cost?
We have negotiated rates with USPS and FedEx. The shipping price you'll see reflected at check-out is the actual price we pay to ship to you, no additional mark-up, and we've chosen not just hide the shipping cost in the price of our products. Choose whichever options works best for your budget and delivery timeline. Your shipping fees will be based on the weight of your order. We offer first-class, ground, and expedited shipping options through both USPS and FedEx. Please note, you should still allow time for us to craft your products even with the expedited shipping options (see above).
Which carriers do you

 

use?
We ship with USPS and FedEx.
Do you

 

ship internationally?
Yes! We ship internationally with both USPS and FedEx. If you choose USPS international shipping, your package will be handed off to your local postal system when it enters your country. International customers will be required to pay the applicable import VAT and duties in their home country prior to delivery of their package. 
What if I have special circumstances?
We love that our customers often order from us for special, sometimes last minute gifts! We do our very best to get those packages shipped as quickly as possible so they can arrive in time. If you have a special circumstance please email us at service@allegorygoods.com. We haven't missed a deadline yet!
I'm pretty sure this set got me a job…
I just had these pens in my portfolio when I was at an interview. The Hiring manager complimented them and I got to tell the whole story of the revolution. I'm pretty sure that extra little story got me that job… THANKS!