Macana Mail Bag | Leather Bag for Small Laptops and Tablets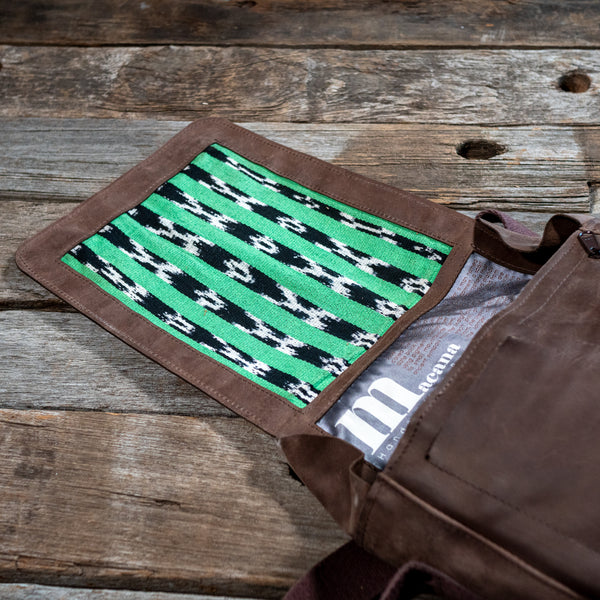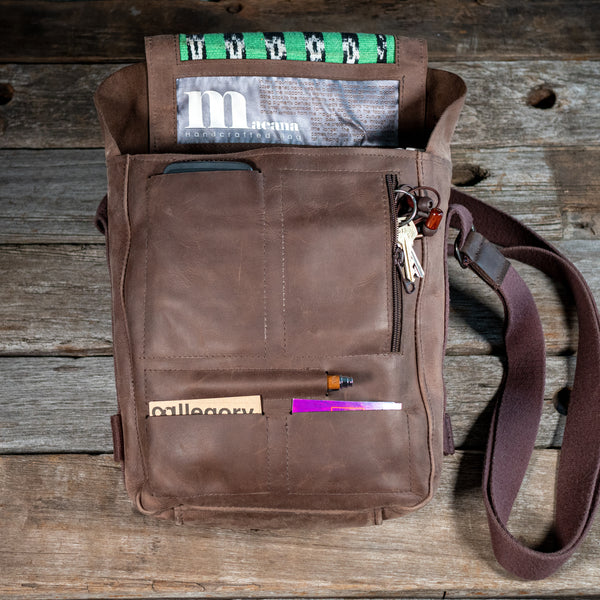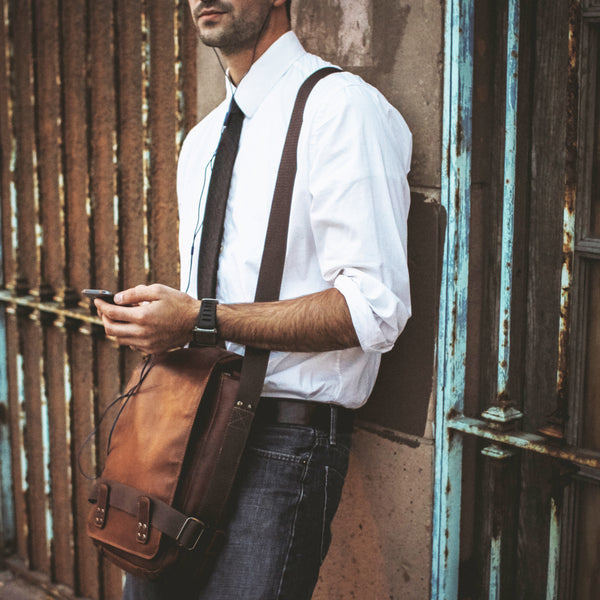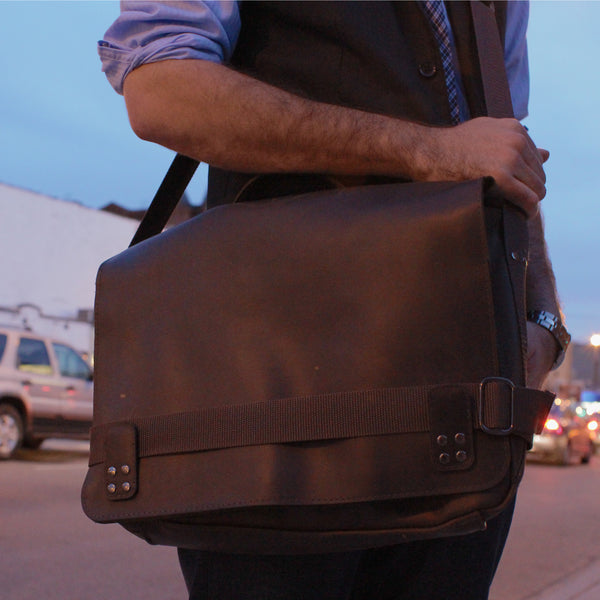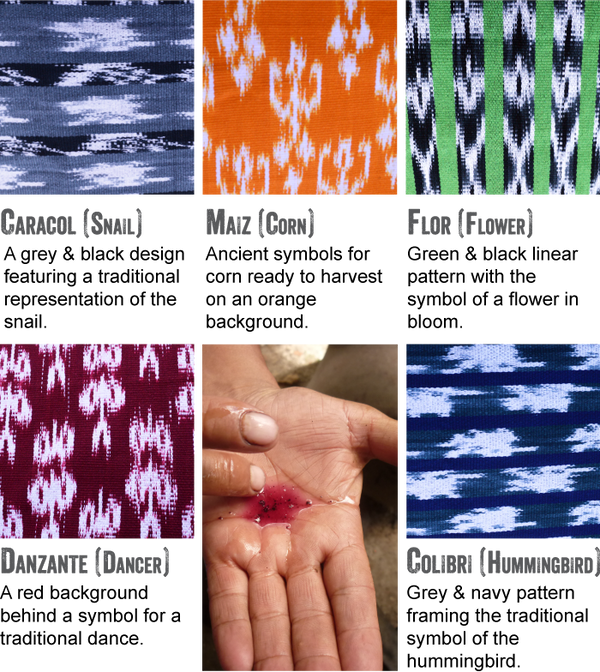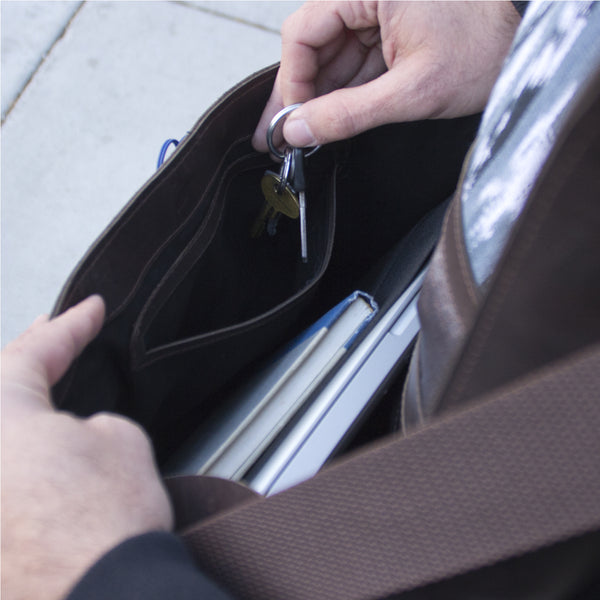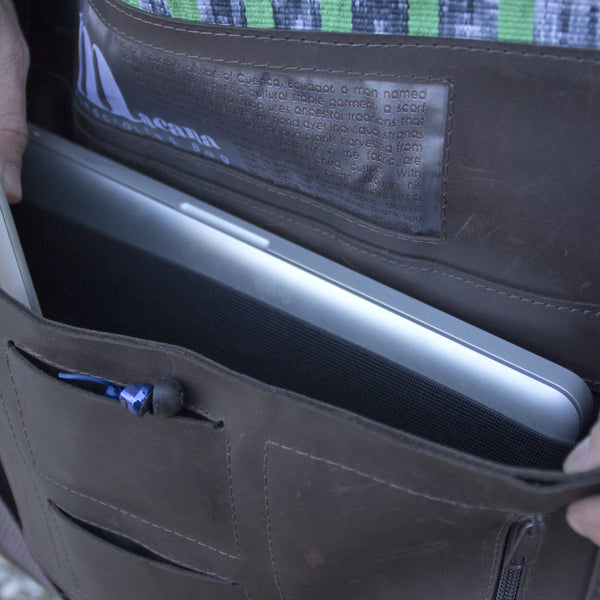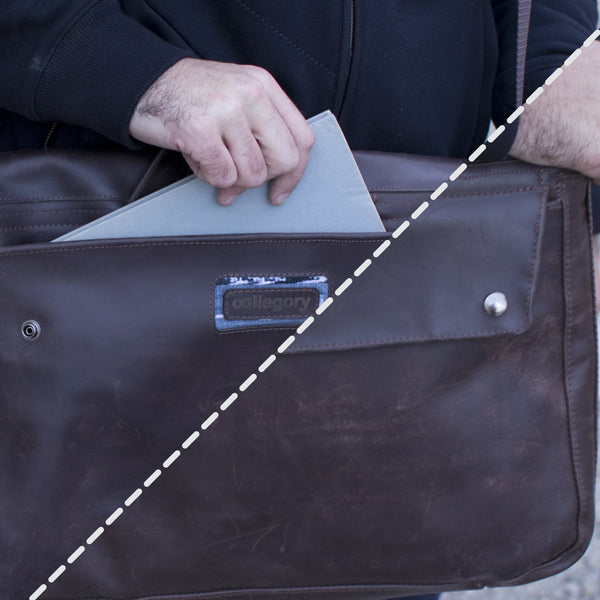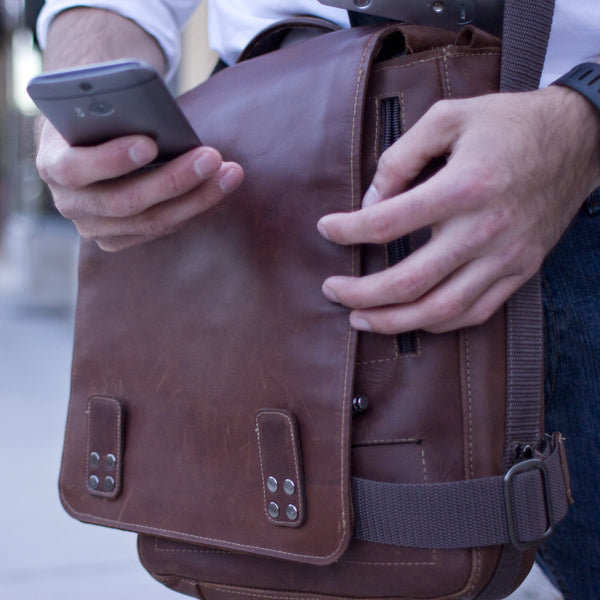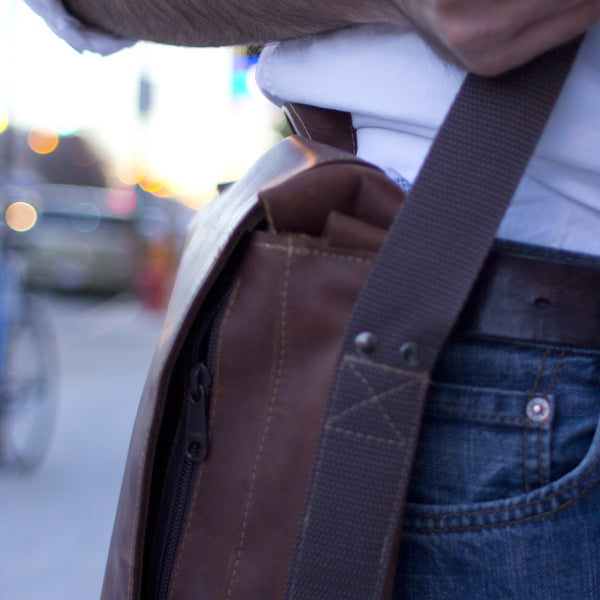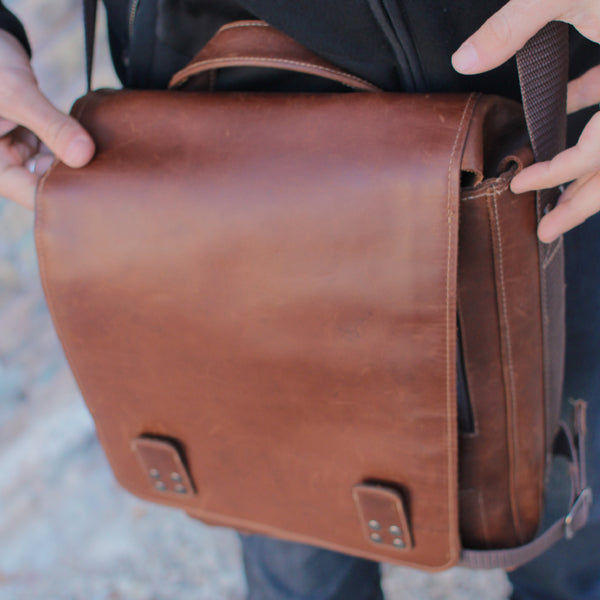 Laptop bag featuring ancient Incan fabric lining.
The Macana Bag is a modern minimalist latop bag designed to bring some story to your daily carry. The sleek and modern exterior reveals a splash of color when the cover is lifted. This macana fabric is named for a traditional Andean scarf and is handmade using weaving techniques that date back to the Incas. Your purchase helps keep that tradition alive by supporting one of its last practitioners. Ancient tradition meets modern design, creating the perfect daily companion for those who love to look a little deeper.
Three leather colors, five macana lining colors.
All-weather construction featuring rain flaps and hydrophobic leather treatment.
3-way closure lets you lock down the bag or choose easy access.
Front panel features low profile utility pockets that stay flat when empty.
Interior, lined with bull denim, features laptop divider and drop pocket for keys/receipts etc.
Back panel has full-size lined pocket with snap closure.
Mail Bag is 12.5 x 11 x 3 inches, designed for smaller laptops and tablets. Is your laptop bigger? Take a look at the Messenger Bag size.
Made in Chicago and guaranteed for life.
The Macana Bag
Low Profile Pockets
No bulk. Flat when empty.
Stretch Divider
Secures laptop at the back of the bag to make the most of the inside storage.
Drop Pocket
Perfectly sized and placed inside the front panel. A quick place to drop small items without losing them in the bottom of the bag.
Back Pocket
Snap-closure rain cover tucks into back pocket when not in use.
Weatherproof
Exterior made with waterproof leather. Front cover has rain flaps to keep the weather out of your bag.
Strap & Tab Closure
We created a new style of closure for the Macana bag that we think you'll love. It's comprised of a strap and two durable tabs with polymer cores. The tabs lock onto the strap when you want to secure the flap, yet both the strap and the tabs are so low profile you don't even notice them when they're not in use. Flipping the strap around to the back of the bag keeps it out of the way, and gives you a place to tuck in and carry a jacket.
Easy Access
Let the front cover hang free to hide your front pockets but keep everything easily accessible.
Lock it down
Tuck the strap behind the tabs and tighten it to secure the entire bag.
The whole story
Get to know Jose and Anna Jimenez, and hear how Chad and Jess connected with them.
Our Guarantee
The simplest and most powerful guarantee we could create.
If we made it, it is guaranteed for life. We will repair or replace anything.
If you buy it, you'll love it. If you don't, we'll work with you until you do, or you can return it for a full refund. 
No questions asked, no paperwork needed.
If you lose it, or it gets destroyed outside of reasonable use, we'll sell you a replacement at half price.
Lots of companies use words like "reasonable use" as a loophole. We don't. Wear and tear is part of reasonable use, and it is covered.
Shoot us a message at service@allegorygoods.com and let us know how we can help.
Shipping
Shipping Information
How long will my order take to arrive?
Our products are handcrafted, mostly to order. We make our smaller pieces in small batches of 10-20 items at a time. Because of the custom, handcrafted nature of our products, it usually takes us 2-3 business days to prepare your order for shipment.
Estimated shipping times begin when your order is shipped and vary by the carrier and service you choose. First-class and ground services usually take up a to a week to deliver to the United States and international first-class services usually take upwards of 3-4 weeks to deliver once we ship your package.
Please note that all carriers are experiencing delivery delays right now. It's important to us that you get your order as quickly as possible, but unfortunately after we drop off your package for shipping the delivery timeline is out of our hands. USPS and FedEx will be your best bet for tracking down information about your package. If you are having trouble getting answers, or if you just want some peace of mind, feel free to shoot us a message with questions or concerns at service@allegorygoods.com.
How much does shipping cost?
We have negotiated rates with USPS and FedEx. The shipping price you'll see reflected at check-out is the actual price we pay to ship to you, no additional mark-up, and we've chosen not just hide the shipping cost in the price of our products. Choose whichever options works best for your budget and delivery timeline. Your shipping fees will be based on the weight of your order. We offer first-class, ground, and expedited shipping options through both USPS and FedEx. Please note, you should still allow time for us to craft your products even with the expedited shipping options (see above).
Which carriers do you

 

use?
We ship with USPS and FedEx.
Do you

 

ship internationally?
Yes! We ship internationally with both USPS and FedEx. If you choose USPS international shipping, your package will be handed off to your local postal system when it enters your country. International customers will be required to pay the applicable import VAT and duties in their home country prior to delivery of their package. 
What if I have special circumstances?
We love that our customers often order from us for special, sometimes last minute gifts! We do our very best to get those packages shipped as quickly as possible so they can arrive in time. If you have a special circumstance please email us at service@allegorygoods.com. We haven't missed a deadline yet!
Excellent design, amazing quality, outstanding craft, phenomenal support
Disclaimer: I was a Kickstarter backer for when these bags were first created, and purchased mine at a substantial discount compared to this website. While I am leaving this review due to a request from Allegory, to help them grow their business with their new website, all opinions & words are expressly my own.
I received my Macana Mail Bag 7 years ago, and it has served me well ever since. It's my daily-carry bag for my Microsoft Surface tablet, loaded up with other geeky gadgets and accessories, as well as the few medical needs I have to keep on me. I have found it to be very comfortable and resilient, despite me often neglecting basic leather care (oil/wax) for months on end.
After a few years, I did have an issue where the upward-pointing "tabs" on the front of the bag that help secure it closed were coming loose, but Allegory showed me just how great their customer service was. I got in touch, mailed my bag to them, and they repaired it and shipped it back to me. The only cost to me was the reasonable cost of shipping the bag to them, and I had it back in between 1 and 2 weeks. I'm located in Canada, so this will likely be even faster for customers in the USA.
One note on comfort, however, is that while the bag was originally marketed as being able to be worn like a backpack (by running the shoulder strap through the flap on the back), this has never worked for me. I suspect this is due to the width of my shoulders compared to this narrow bag, but I am not certain. Something to keep in mind, if the "transformation" into a backpack influences your purchasing decision.
My only regret is that I purchased the Mail bag instead of the Messenger bag. This is a smaller bag, and it will struggle to accommodate a laptop or tablet larger than the Microsoft Surface.
Perfect size and highest quality
Right between a full size messenger bag and those cross-body slings. Just right for carrying a good day's worth of stuff and looking good doing it. And exceptional craftsmanship.
A Modern Indiana Jones Look
We've all wanted to be a certain globetrotting, gun-toting archaeologist at some point in our lives. This bag easily makes me feel like I've achieved that, albeit in look only. What matters is that it makes me feel as though I could take on a swarm of bad guys while still keeping my lost treasure (er...I mean client notes and laptop) in place. Swagger. Confidence. Call it what you will. This bag provides an extra dose of it.
The indigenous design on the inside flap fittingly adds to the exotic sentiment. It's old world, yet at the same time it's precisely what gives this bag a modern edge.
If only it came with a bullwhip and fedora!