The Holden Series | Limited Edition Rollerball Pen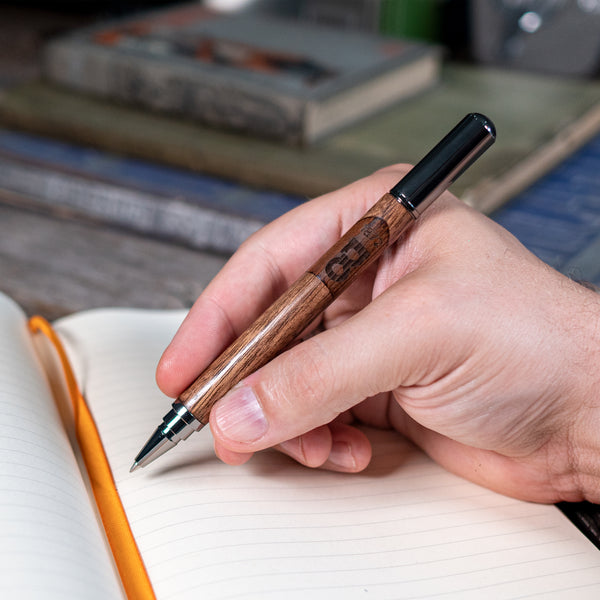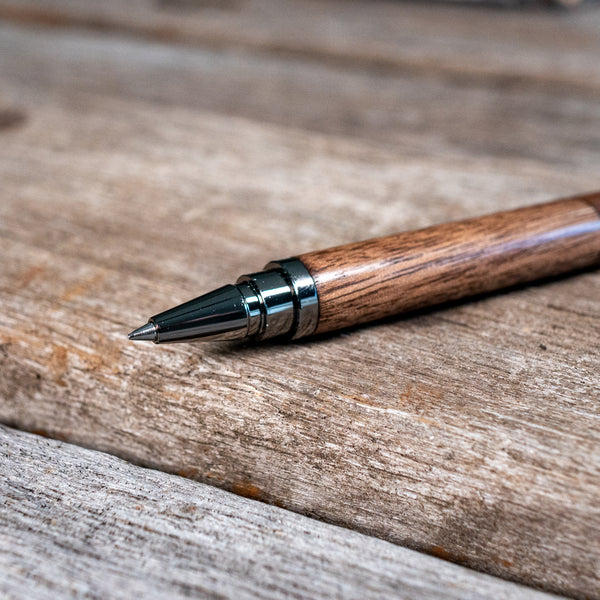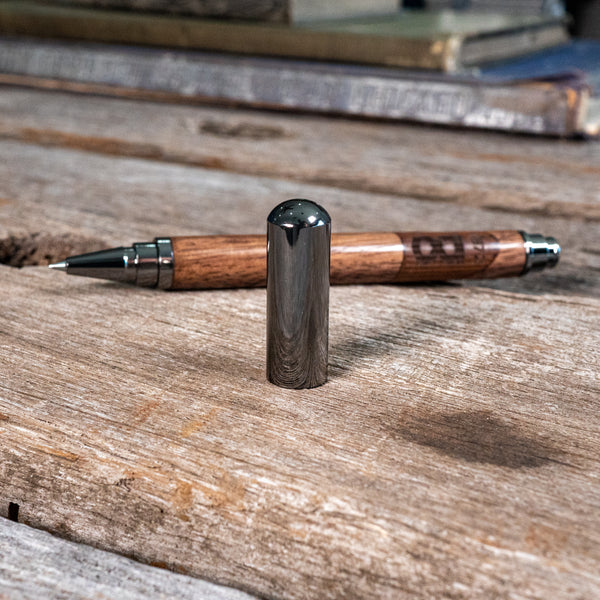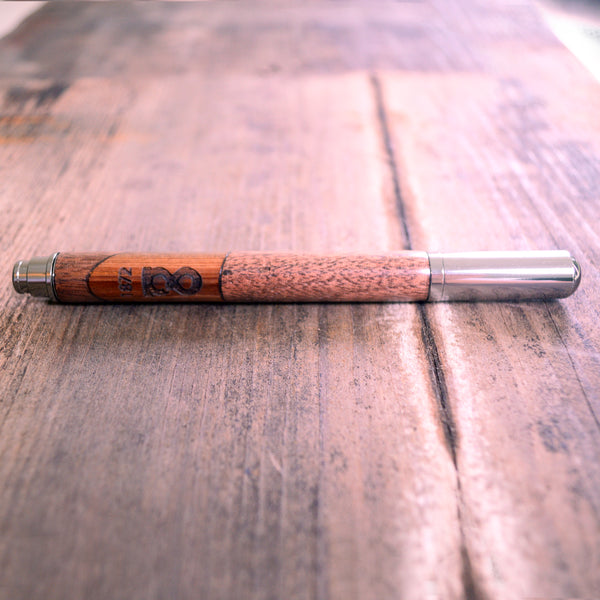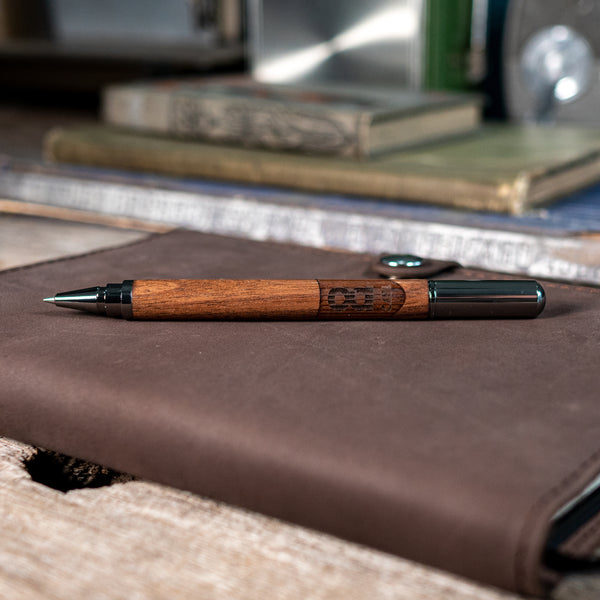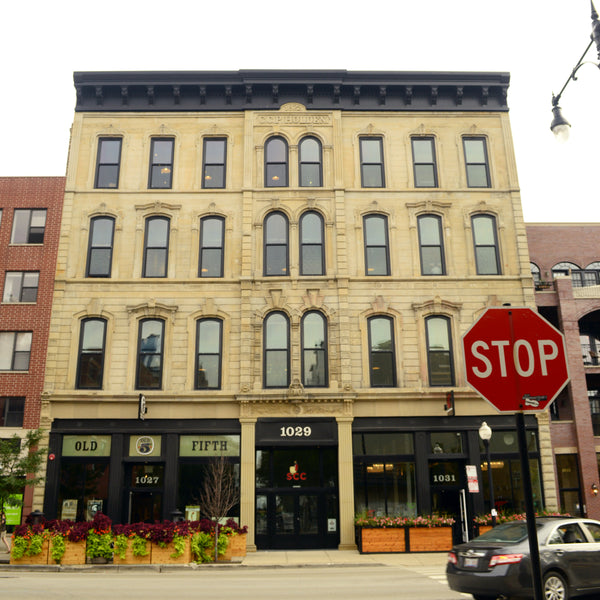 Minimalist Rollerball pen made with wood from the Chicago Fire rebuild.
A slim rollerball pen handmade from wood that helped rebuild Chicago after the fire of 1871, the Holden Series is a limited edition - only 500 will be produced.
Made with wood from the CCP Holden Building, one of the first buildings built after the Chicago Fire.
Slim to medium barrel with excellent balance.
Minimalist cap posts to either end with a satisfying click.
Rollerball is compatible with 110 mm Euro rollerball refills and ships with a Schneider Topball 850.
Handmade in Chicago and guaranteed for life.
The Story
In 1872, during the effort to help Chicago rebuild after the fire gutted the city in October 1871, Charles Holden commissioned the CCP Holden Building. As the president of Chicago's City Council, he was also instrumental in coordinating the entire city's efforts to bounce back. Today the CCP Holden building (1027 W. Madison) is a fixture in the west loop and a registered landmark. We were lucky to come across a few large douglas fir boards that were removed during a recent renovation, and we're putting them back to work by incorporating them into a limited edition writing instrument.
Feature Spotlight
Minimal Metal Cap
Pressure fit cap posts to back or front of pen with a satisfying click.
Pocket clip
Integrated pocket clip with minimalist design.
Rollerball
Elegant rollerball includes Schneider Topball 850 refill for pristine writing experience. Accepts all 110mm euro rollerball refills.
Our Guarantee
The simplest and most powerful guarantee we could create.
If we made it, it is guaranteed for life. We will repair or replace anything.
If you buy it, you'll love it. If you don't, we'll work with you until you do, or you can return it for a full refund. 
No questions asked, no paperwork needed.
If you lose it, or it gets destroyed outside of reasonable use, we'll sell you a replacement at half price.
Lots of companies use words like "reasonable use" as a loophole. We don't. Wear and tear is part of reasonable use, and it is covered.
Shoot us a message at service@allegorygoods.com and let us know how we can help.
Shipping
Shipping Information
How long will my order take to arrive?
Our products are handcrafted, mostly to order. We make our smaller pieces in small batches of 10-20 items at a time. Because of the custom, handcrafted nature of our products, it usually takes us 2-3 business days to prepare your order for shipment.
Estimated shipping times begin when your order is shipped and vary by the carrier and service you choose. First-class and ground services usually take up a to a week to deliver to the United States and international first-class services usually take upwards of 3-4 weeks to deliver once we ship your package.
Please note that all carriers are experiencing delivery delays right now. It's important to us that you get your order as quickly as possible, but unfortunately after we drop off your package for shipping the delivery timeline is out of our hands. USPS and FedEx will be your best bet for tracking down information about your package. If you are having trouble getting answers, or if you just want some peace of mind, feel free to shoot us a message with questions or concerns at service@allegorygoods.com.
How much does shipping cost?
We have negotiated rates with USPS and FedEx. The shipping price you'll see reflected at check-out is the actual price we pay to ship to you, no additional mark-up, and we've chosen not just hide the shipping cost in the price of our products. Choose whichever options works best for your budget and delivery timeline. Your shipping fees will be based on the weight of your order. We offer first-class, ground, and expedited shipping options through both USPS and FedEx. Please note, you should still allow time for us to craft your products even with the expedited shipping options (see above).
Which carriers do you

 

use?
We ship with USPS and FedEx.
Do you

 

ship internationally?
Yes! We ship internationally with both USPS and FedEx. If you choose USPS international shipping, your package will be handed off to your local postal system when it enters your country. International customers will be required to pay the applicable import VAT and duties in their home country prior to delivery of their package. 
What if I have special circumstances?
We love that our customers often order from us for special, sometimes last minute gifts! We do our very best to get those packages shipped as quickly as possible so they can arrive in time. If you have a special circumstance please email us at service@allegorygoods.com. We haven't missed a deadline yet!
My 2nd Rollerball Pen
I've been using my Rollerball for some years now, I carelessly, lost, or misplaced my favorite pen and instantly ordered #2 which came quickly. Its now on my desk in plain sight and I vow there will never be a #3.
I have other pens but none can compare to this Rollerball.
My first purchase as a gift, receiver became an instant fan
Backed this in kickstarter as a gift in 2014 for a very hard to please guy who always on a lookout for "business" pen.
He have all kinds pens from retail to custom made ones but all of which got replaced by him within the year. He loved this pen's weighted feel, non shaking pen nib and overall comfort and design of this pen. He always got people asking him where he got this pen.
This is start of him being a fan and him bugging me to get him more whenever there's new pen design coming out. 😅
One of my favorites
I love the Holden pen. The wood is pretty and the pen has a beautiful weight and feel. I highly recommend it!
My most used pen at home!
I absolutely love the story of this reclaimed wood on this model. Just like everything they make, everyone is pretty much one of a kind. I absolutely love the simple design and muted look of this pen. The cap and pen system works fantastically and have used this pen for many years and still going strong!
One of my favorite pens
This is such a solid pen, with an awesome story too. Nice feel and weight to it, but not too bulky. Bought it when it was on Kickstarter and then bought another after that!