Ford Portfolio | Large Padfolio & Tech Case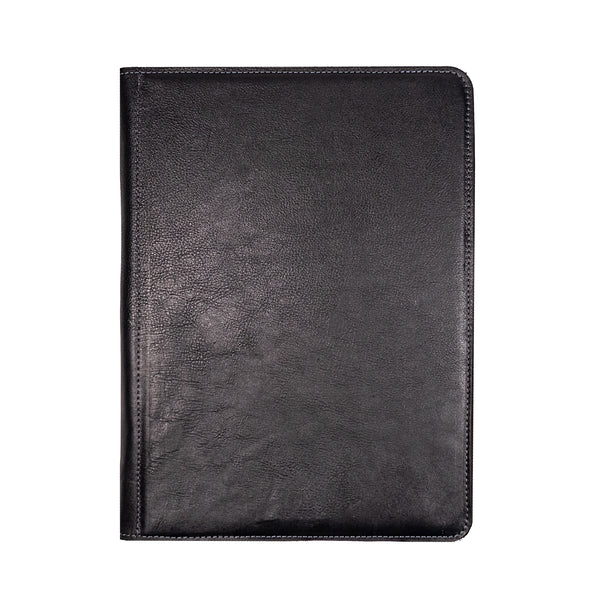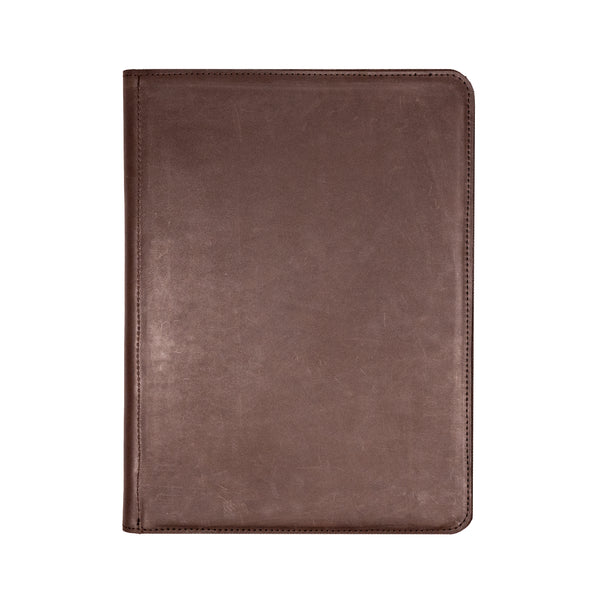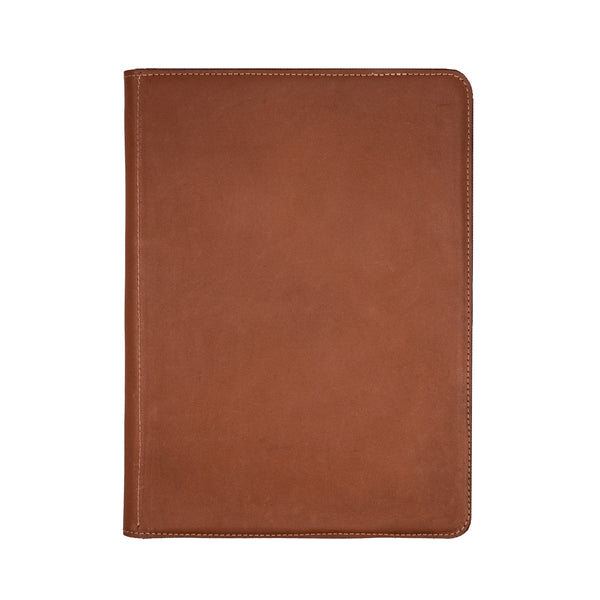 Leather Padfolio & Tech Case for Letter/A4 Pads and Tablets up to 13''
Classic design for documents, cards, and notes. 
Two pen loops in the binding.
Includes a basic pad, compatible with any letter/A4 sized pads.

Tech sleeve holds tablets with screens up to 13 inches.
Heirloom quality construction with 4.5 oz leather and polymer cores.
Made in Chicago and guaranteed for life.
The Visionary Portfolio Collection is the perfect blend of tech and pen and paper for the modern business superhero. Three styles, inspired by history's great visionaries, and four sizes ensure you can always find your perfect secret weapon.
Inspiration
The Ford Series mirrors the design philosophy of its namesake. How can a long-lasting and quality product serve as many people as possible? By focusing on only the most important features. No closure, just secure pockets for your most important items and notes. Henry Ford was more than a successful businessman, he also pioneered workers' rights. His perspective that a healthy and happy workforce produces (and buys) more cars led him to cut the work day to eight hours and the work week to five days, all while paying double what other factories paid. Rather than using his innovative manufacturing techniques to simply increase his own profits, he fundamentally shifted the employer-employee relationship. Ford inspired us to rethink traditional processes for our craft, and to treat our team as the foundation for our success.
Our Guarantee
The simplest and most powerful guarantee we could create.
If we made it, it is guaranteed for life. We will repair or replace anything.
If you buy it, you'll love it. If you don't, we'll work with you until you do, or you can return it for a full refund. 
No questions asked, no paperwork needed.
If you lose it, or it gets destroyed outside of reasonable use, we'll sell you a replacement at half price.
Lots of companies use words like "reasonable use" as a loophole. We don't. Wear and tear is part of reasonable use, and it is covered.
Shoot us a message at service@allegorygoods.com and let us know how we can help.
Shipping
Shipping Information
How long will my order take to arrive?
Our products are handcrafted, mostly to order. We make our smaller pieces in small batches of 10-20 items at a time. Because of the custom, handcrafted nature of our products, it usually takes us 2-3 business days to prepare your order for shipment.
Estimated shipping times begin when your order is shipped and vary by the carrier and service you choose. First-class and ground services usually take up a to a week to deliver to the United States and international first-class services usually take upwards of 3-4 weeks to deliver once we ship your package.
Please note that all carriers are experiencing delivery delays right now. It's important to us that you get your order as quickly as possible, but unfortunately after we drop off your package for shipping the delivery timeline is out of our hands. USPS and FedEx will be your best bet for tracking down information about your package. If you are having trouble getting answers, or if you just want some peace of mind, feel free to shoot us a message with questions or concerns at service@allegorygoods.com.
How much does shipping cost?
We have negotiated rates with USPS and FedEx. The shipping price you'll see reflected at check-out is the actual price we pay to ship to you, no additional mark-up, and we've chosen not just hide the shipping cost in the price of our products. Choose whichever options works best for your budget and delivery timeline. Your shipping fees will be based on the weight of your order. We offer first-class, ground, and expedited shipping options through both USPS and FedEx. Please note, you should still allow time for us to craft your products even with the expedited shipping options (see above).
Which carriers do you

 

use?
We ship with USPS and FedEx.
Do you

 

ship internationally?
Yes! We ship internationally with both USPS and FedEx. If you choose USPS international shipping, your package will be handed off to your local postal system when it enters your country. International customers will be required to pay the applicable import VAT and duties in their home country prior to delivery of their package. 
What if I have special circumstances?
We love that our customers often order from us for special, sometimes last minute gifts! We do our very best to get those packages shipped as quickly as possible so they can arrive in time. If you have a special circumstance please email us at service@allegorygoods.com. We haven't missed a deadline yet!
Simplistic beauty
I have several portfolios from Allegory with zippers or snap buttons, so I wanted to change for a simpler designed portfolio. I am very happy with the product. It is easy to use, well made and very durable. I really like Allegory's product because it is very well thought in its design, and beautiful without being pretentious. Those looking for perfection in details should probably look elsewhere, but personally I appreciate the roughness and uniqueness of each item. A brand, inspiring concepts and product to definitely explore.
Great Product
Perfect size, strength, weight. Leather looks good. Selling points were (1) made in America and (2) the lifetime warranty. Will look here first when I need a zippered pad folio.