1937 Series Fountain | Limited Edition Fountain Pen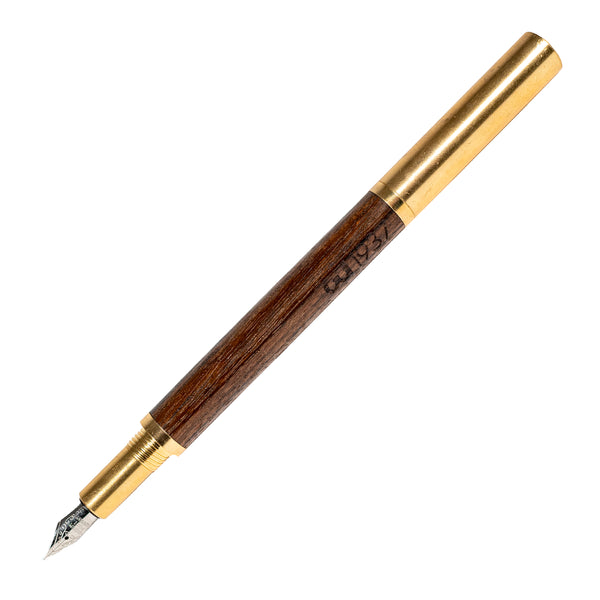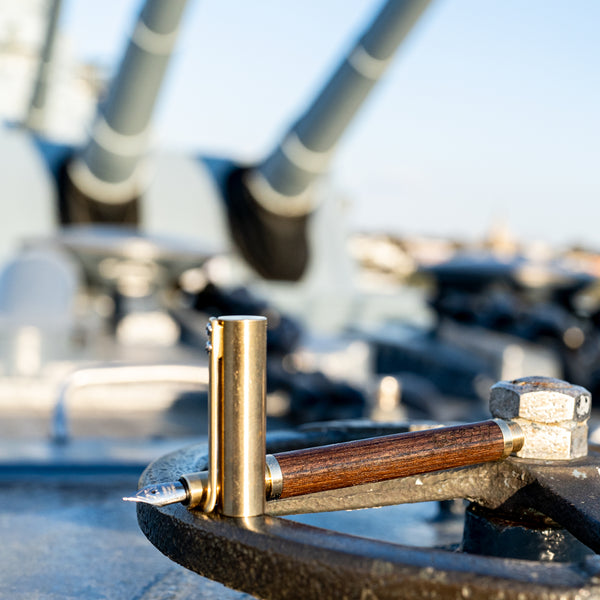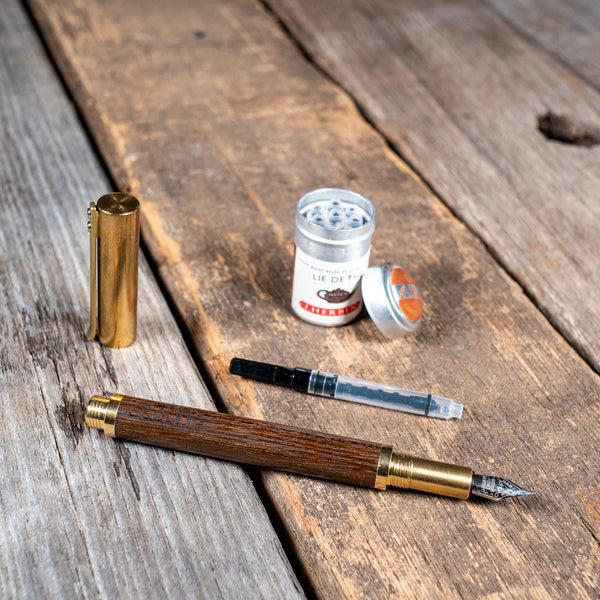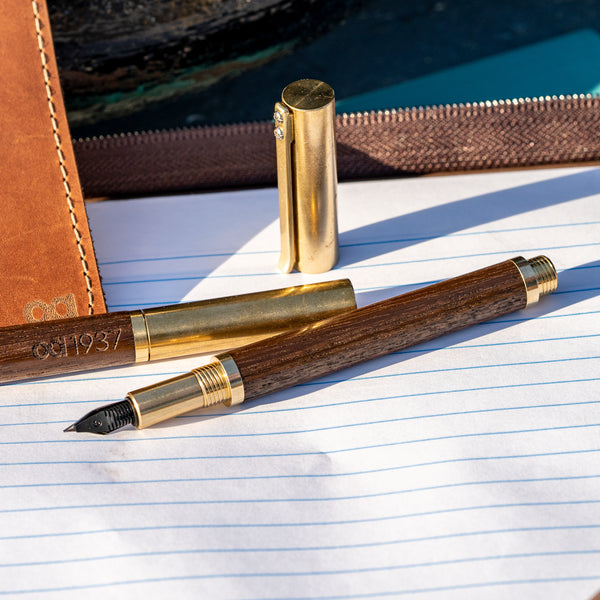 Fountain pen made with wood from WWII history.
The 1937 Series of limited edition pens is crafted using the original teak decking from the USS North Carolina, one of the most decorated ships in the WWII Pacific Fleet. 
Made with the original teak decking of the USS North Carolina.
Medium barrel with excellent balance.
Features a solid brass cap.

German-made Jowo #5 stainless steel nib comes standard in a medium point.

Handmade in Chicago and guaranteed for life.
The Story
1937 was a year when no one knew what to expect. The world was faced with growing tension and war looming on the horizon. The conflict between Imperial Japan and China was in full swing, with atrocities becoming commonplace as Hirohito's troops took cities on China's mainland. Hitler's fascist grip on Germany was fully realized, with anyone who stood in his way being arrested by the SS and held in camps like Dachau.

No one could have known that in the following years the world would be pulled into a fight for humanity itself. Yet, in New York, shipyard workers from around the city grabbed their tools and began building. The keel was laid for the USS North Carolina on the 27th of October, 1937.
Just a few months before the attack on Pearl Harbor pulled the United States into direct participation in World War II, BB-55 (the official designation of the USS North Carolina) launched. They called her "The Showboat," and she arrived just in time.
Underway
When the war started, she was still in the Atlantic, but soon made her way to join the Pacific Fleet for the Guadalcanal Campaign. She deployed a wide range of anti-aircraft weapons to protect vital aircraft carriers, bombarded enemy positions with her deck guns, and hosted kingfisher sea planes that conducted reconnaissance and rescue flights of downed pilots. She became one of the most decorated ships in the Pacific Fleet, participating in all major engagements, and surviving many attempts at destruction. Japanese radio claimed the USS North Carolina had been sunk six times. Rumors of her death were greatly exaggerated.
A New Mission
After the war, she was decommissioned in 1947. She remained in the Navy's inventory and was considered for a refit many times. Ultimately, she remained a time capsule from her time in the Pacific until 1960, when she was slated to be scrapped. A fundraising campaign was able to rescue her from the scrapyard, giving her a new mission as a museum ship in Wilmington, North Carolina.
In 1998, Operation Ship Shape, a major restoration effort, restored much of the ship including her original teak deck. Those boards were stored on-site and some of the most damaged ones became available to the public. Proceeds from the sale of these deck boards support the museum.
We're passionate about making objects that are part of our daily lives using materials with a story, and this is surely an incredible story! The 1937 Series honors the work that was done to build the USS North Carolina, and the work she and her crew did during their service. Stepping into uncertainty to build a better future is how all great things are accomplished; we hope these writing instruments will accompany you on great adventures.
Our Guarantee
The simplest and most powerful guarantee we could create.
If we made it, it is guaranteed for life. We will repair or replace anything.
If you buy it, you'll love it. If you don't, we'll work with you until you do, or you can return it for a full refund. 
No questions asked, no paperwork needed.
If you lose it, or it gets destroyed outside of reasonable use, we'll sell you a replacement at half price.
Lots of companies use words like "reasonable use" as a loophole. We don't. Wear and tear is part of reasonable use, and it is covered.
Shoot us a message at service@allegorygoods.com and let us know how we can help.
Shipping
Shipping Information
How long will my order take to arrive?
Our products are handcrafted, mostly to order. We make our smaller pieces in small batches of 10-20 items at a time. Because of the custom, handcrafted nature of our products, it usually takes us 2-3 business days to prepare your order for shipment.
Estimated shipping times begin when your order is shipped and vary by the carrier and service you choose. First-class and ground services usually take up a to a week to deliver to the United States and international first-class services usually take upwards of 3-4 weeks to deliver once we ship your package.
Please note that all carriers are experiencing delivery delays right now. It's important to us that you get your order as quickly as possible, but unfortunately after we drop off your package for shipping the delivery timeline is out of our hands. USPS and FedEx will be your best bet for tracking down information about your package. If you are having trouble getting answers, or if you just want some peace of mind, feel free to shoot us a message with questions or concerns at service@allegorygoods.com.
How much does shipping cost?
We have negotiated rates with USPS and FedEx. The shipping price you'll see reflected at check-out is the actual price we pay to ship to you, no additional mark-up, and we've chosen not just hide the shipping cost in the price of our products. Choose whichever options works best for your budget and delivery timeline. Your shipping fees will be based on the weight of your order. We offer first-class, ground, and expedited shipping options through both USPS and FedEx. Please note, you should still allow time for us to craft your products even with the expedited shipping options (see above).
Which carriers do you

 

use?
We ship with USPS and FedEx.
Do you

 

ship internationally?
Yes! We ship internationally with both USPS and FedEx. If you choose USPS international shipping, your package will be handed off to your local postal system when it enters your country. International customers will be required to pay the applicable import VAT and duties in their home country prior to delivery of their package. 
What if I have special circumstances?
We love that our customers often order from us for special, sometimes last minute gifts! We do our very best to get those packages shipped as quickly as possible so they can arrive in time. If you have a special circumstance please email us at service@allegorygoods.com. We haven't missed a deadline yet!
Historical Weight Perfect Lines
To say I own a 'few' fountain pens is an understatement. I've backed pens via Kickstarter made out of all kinds of material with all kinds of unique designs. This is the first one that has historical value and heft to it. More than that the pen simply writes beautifully in all my testing with various inks. It looks great and feels nice and weighty in the hand. Careful craftsmanship went into the making of this pen and it shows throughout in that every part of this pen is perfectly fitted. A true conversation starter and great gift for anyone who enjoys history and writing.
Lovely Pen,
Let's start off with the headline: this is a great pen. Writes smoothly, the nib doesn't freeze up like some cheap ones do. You can tell everyone involved cared about making a quality product. I fully expect my great-grandchildren could use this same pen, assuming they still teach handwriting then. Looks gorgeous too, which you can probably tell from the pictures. It's also a delightful connection to history, but probably anybody who clicked on this link in the first place intuitively understands why writing with a piece of one of the most beautiful warships that ever sailed is appealing.
Best Fountain Pen I own
I backed this project on Kickstarter and love the results. I'd been looking for a fountain pen to use and was excited by the history of the materials that were used to create the pen. It has a nice heft to it and I take it everywhere with me. I don't think there's anyway to improve on this pen.