The Wanderer Series | Limited Edition Click Pen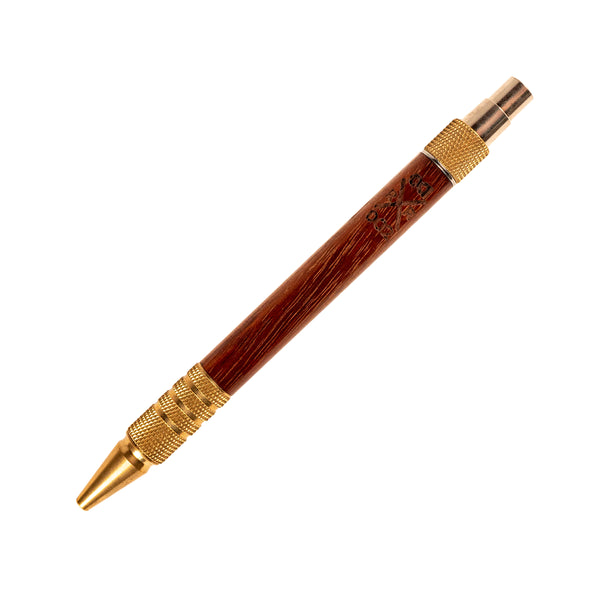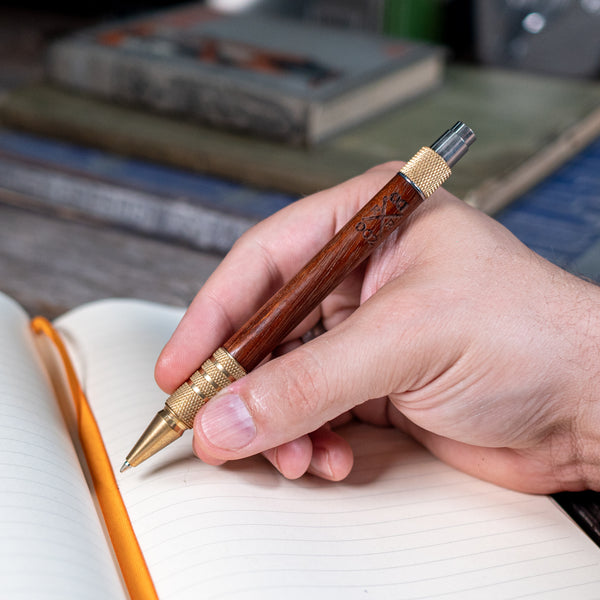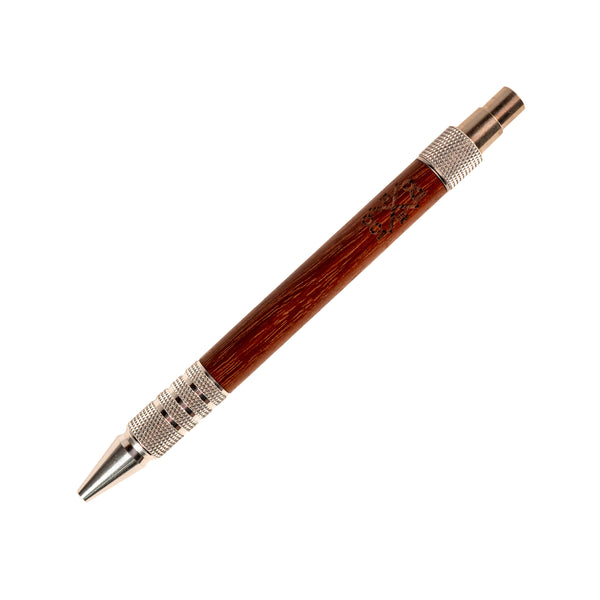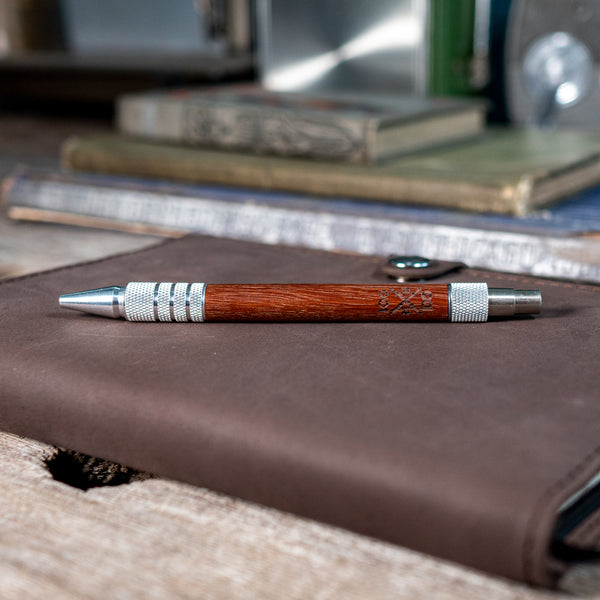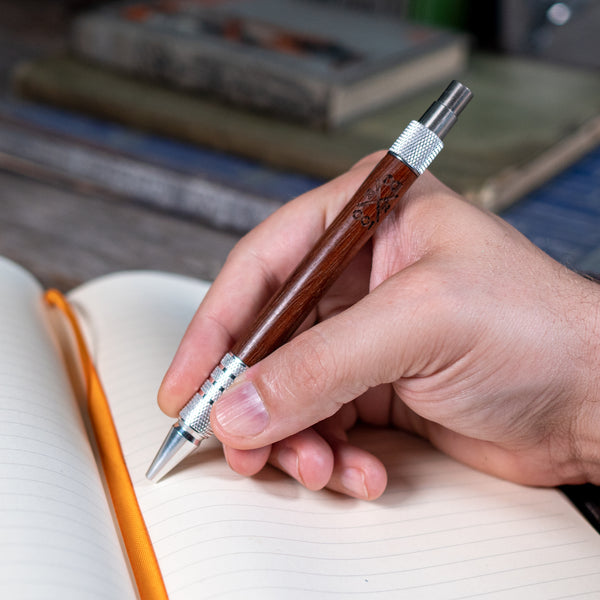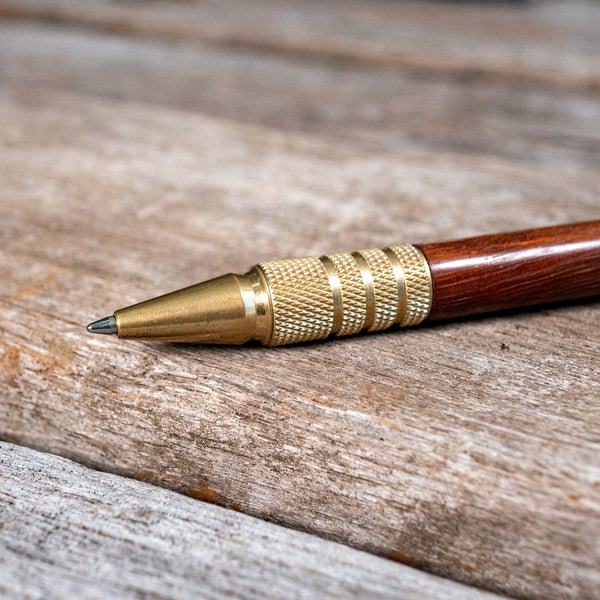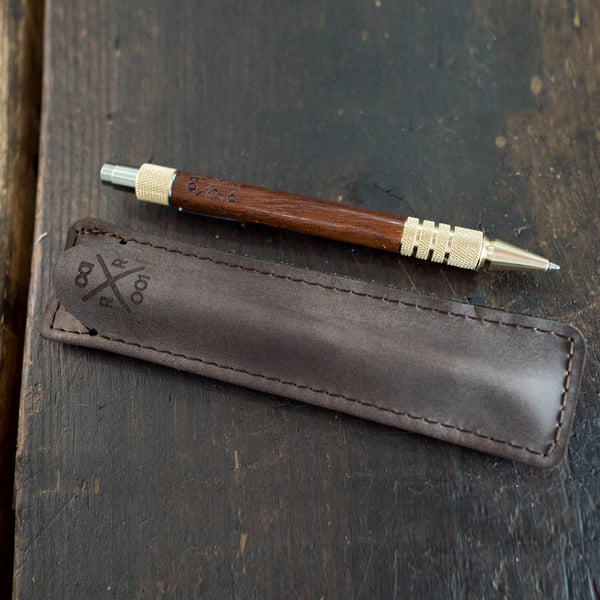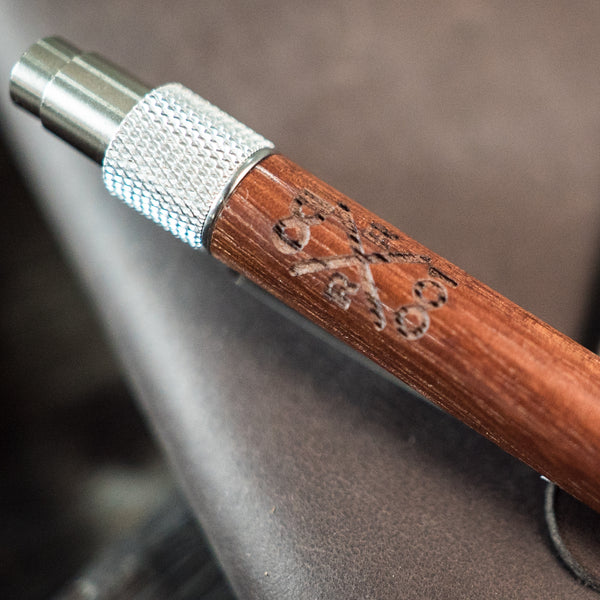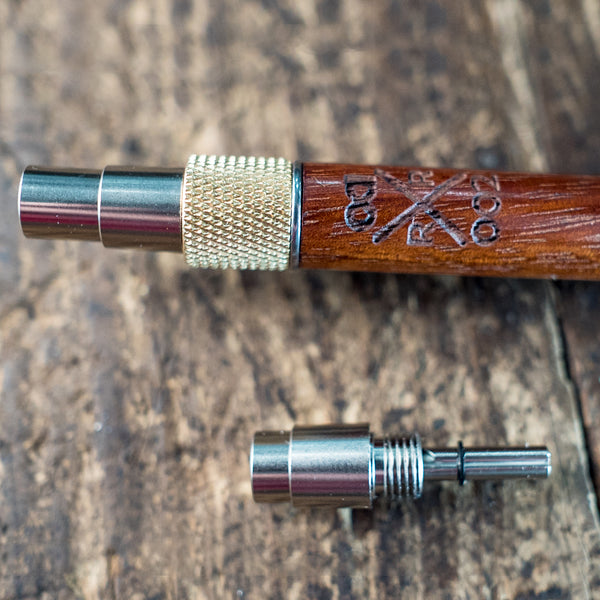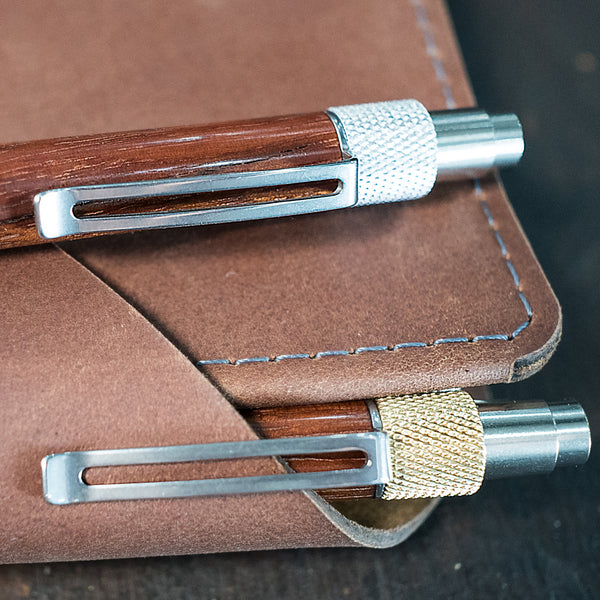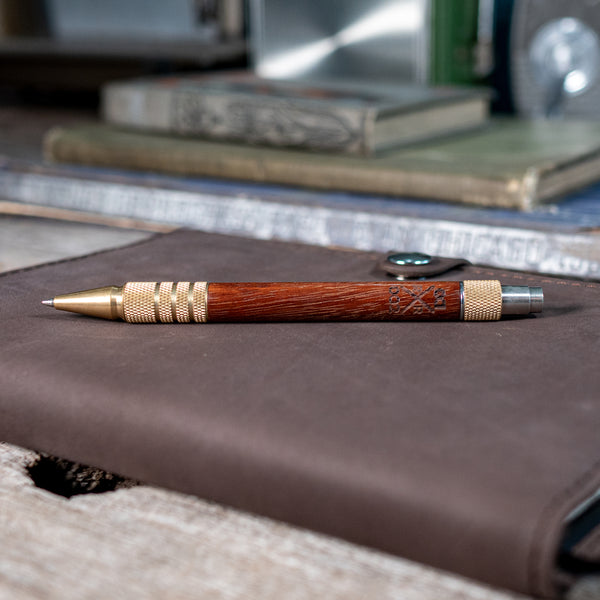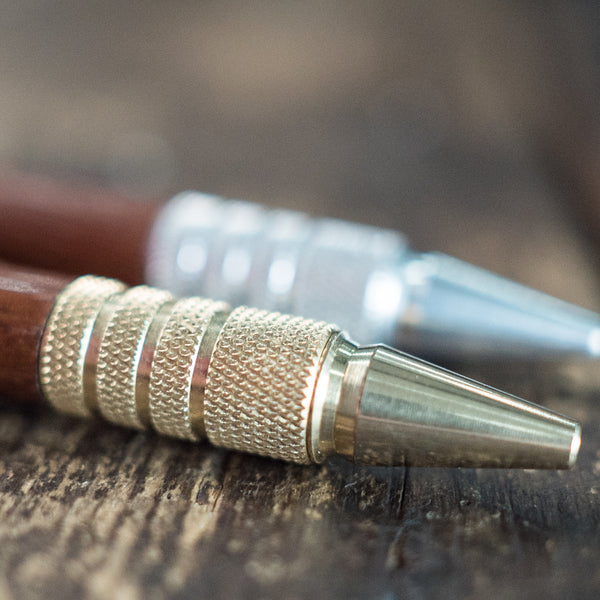 EDC Click Pen made with wood from decommissioned railway boxcars.
The super durable Wanderer Series click pens are ready for wherever the rails take you. The rugged brass or aluminum hardware with micro-knurled grip, durable all metal click mechanism, and matte finish pocket clip all compliment this medium-barreled click pen. The perfect everyday tool for anyone with a touch of wanderlust.
Greenheart wood body reclaimed from decommissioned railway boxcars.
Parker style ballpoint refills for tons of writing options.

Handmade in Chicago and guaranteed for life.
Railway Boxcar Greenheart
The wood body of the Wanderer Series is made with reclaimed greenheart from decommissioned railway boxcars that carried the lifeblood of American commerce for thousands of miles over the rails and helped build the life we all enjoy today.
Feature Spotlight
Full Metal Click Mechanism
Super durable mechanism withstands drops and our deliberate attempts to break it just to see if we could (not recommended). Certain to stand up to years of fidget clicking.
Micro-Knurled Grip
Comfortable and secure grip that will last a lifetime.
Limited Edition Logo
Railway-inspired logo with serial number for the limited edition.
Durable Clip
Heavy spring clip in matte finish matches click mechanism.
Our Guarantee
The simplest and most powerful guarantee we could create.
If we made it, it is guaranteed for life. We will repair or replace anything.
If you buy it, you'll love it. If you don't, we'll work with you until you do, or you can return it for a full refund. 
No questions asked, no paperwork needed.
If you lose it, or it gets destroyed outside of reasonable use, we'll sell you a replacement at half price.
Lots of companies use words like "reasonable use" as a loophole. We don't. Wear and tear is part of reasonable use, and it is covered.
Shoot us a message at service@allegorygoods.com and let us know how we can help.
Shipping
Shipping Information
How long will my order take to arrive?
Our products are handcrafted, mostly to order. We make our smaller pieces in small batches of 10-20 items at a time. Because of the custom, handcrafted nature of our products, it usually takes us 2-3 business days to prepare your order for shipment.
Estimated shipping times begin when your order is shipped and vary by the carrier and service you choose. First-class and ground services usually take up a to a week to deliver to the United States and international first-class services usually take upwards of 3-4 weeks to deliver once we ship your package.
Please note that all carriers are experiencing delivery delays right now. It's important to us that you get your order as quickly as possible, but unfortunately after we drop off your package for shipping the delivery timeline is out of our hands. USPS and FedEx will be your best bet for tracking down information about your package. If you are having trouble getting answers, or if you just want some peace of mind, feel free to shoot us a message with questions or concerns at service@allegorygoods.com.
How much does shipping cost?
We have negotiated rates with USPS and FedEx. The shipping price you'll see reflected at check-out is the actual price we pay to ship to you, no additional mark-up, and we've chosen not just hide the shipping cost in the price of our products. Choose whichever options works best for your budget and delivery timeline. Your shipping fees will be based on the weight of your order. We offer first-class, ground, and expedited shipping options through both USPS and FedEx. Please note, you should still allow time for us to craft your products even with the expedited shipping options (see above).
Which carriers do you

 

use?
We ship with USPS and FedEx.
Do you

 

ship internationally?
Yes! We ship internationally with both USPS and FedEx. If you choose USPS international shipping, your package will be handed off to your local postal system when it enters your country. International customers will be required to pay the applicable import VAT and duties in their home country prior to delivery of their package. 
What if I have special circumstances?
We love that our customers often order from us for special, sometimes last minute gifts! We do our very best to get those packages shipped as quickly as possible so they can arrive in time. If you have a special circumstance please email us at service@allegorygoods.com. We haven't missed a deadline yet!
Excellent Gift!!
This pen has already been purchased 4 tines to be presented as gifts to my crew and engineers at special moments The appreciation and reaction from each recipient is something great to see. It has special meaning since our work is Mechanical Maintenance for the Railroad.
Great Story - Great Pen - Great Service!
The Wanderer is another showcase of craftsmanship and quality. For me, it's the story that elevates this to a showpiece. Carrying a piece of history to my work makes this pen something I treasure. When my pen arrived with a misprint of my monogram, the Allegory Goods team addressed the concern quickly and fully. I am, once again, so impressed by this product and the team behind it.
Amazing pen
I backed this on Kickstarter for my Dad as a Christmas present. He's a railway engineer and was thrilled with this meaningful gift. It's great quality and he uses it all the time. Thank you.
Comfortable, solid, gorgeous, and meaningful.
I backed the Kickstarter for these pens, getting them both as a gift and for myself, and they have been everyday use pens for the last year and a half. They are solid and easy to use, and cannot recommend them enough to people who want a good every day pen. Also, the sourcing of materials makes these more meaningful to me and my family. Allegory Goods continues to make excellent products suitable for gifts, display, or use by anyone.
A special gift
I ordered this pen when it was coming out for my husband who was just getting into writing. It writes so well and the history behind it is beautiful. It's a very special pen both for personal use and/or as a gift. You won't be disappointed!