The Arc Edition | Rollerball or Fountain pen made with historic wood.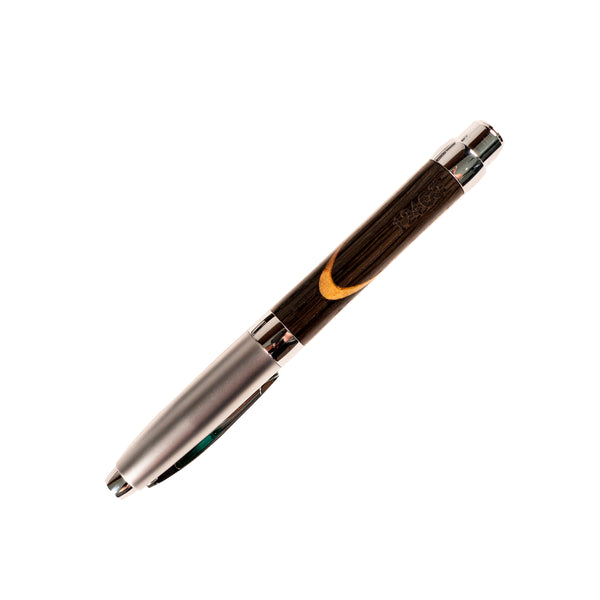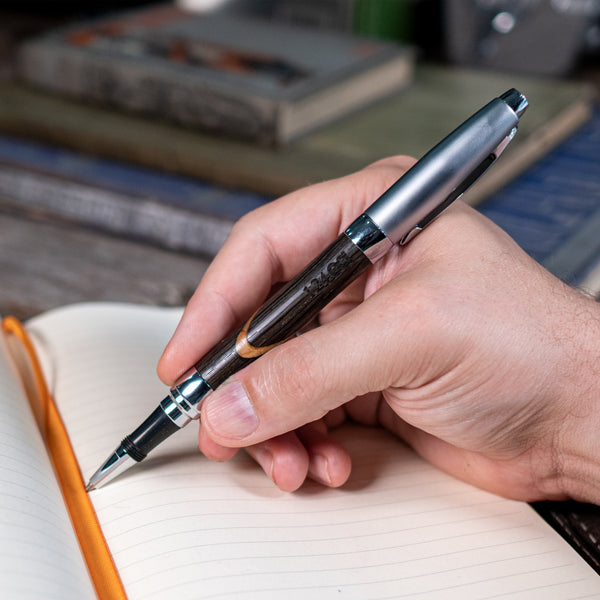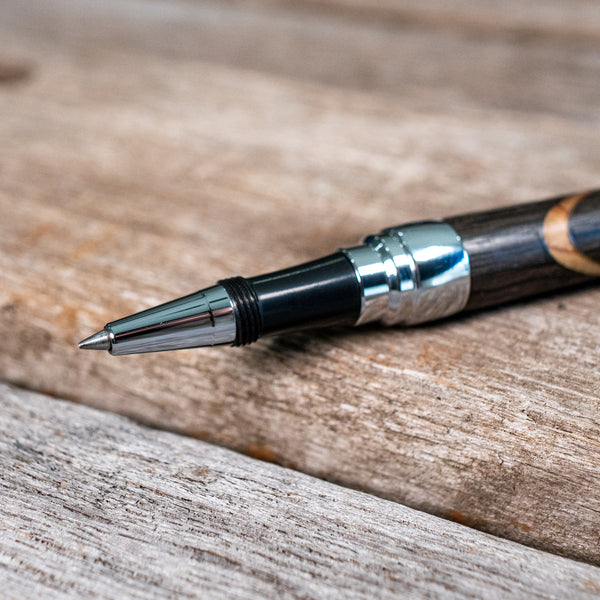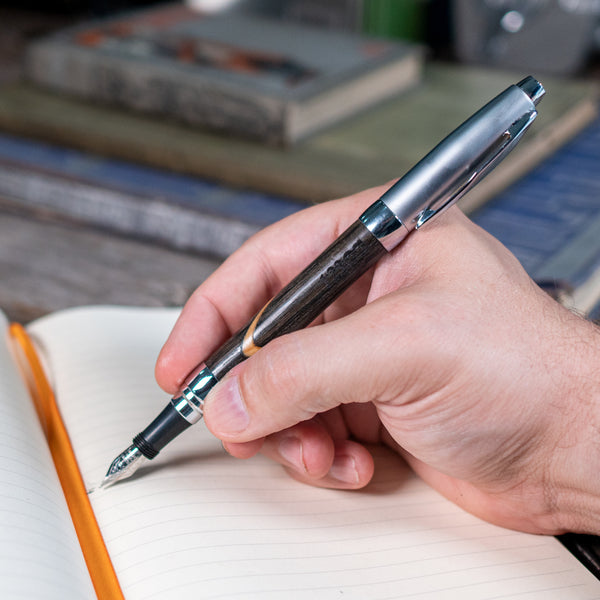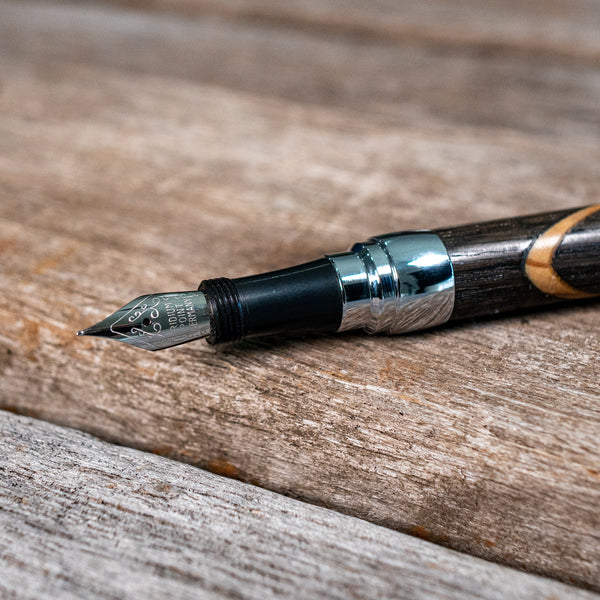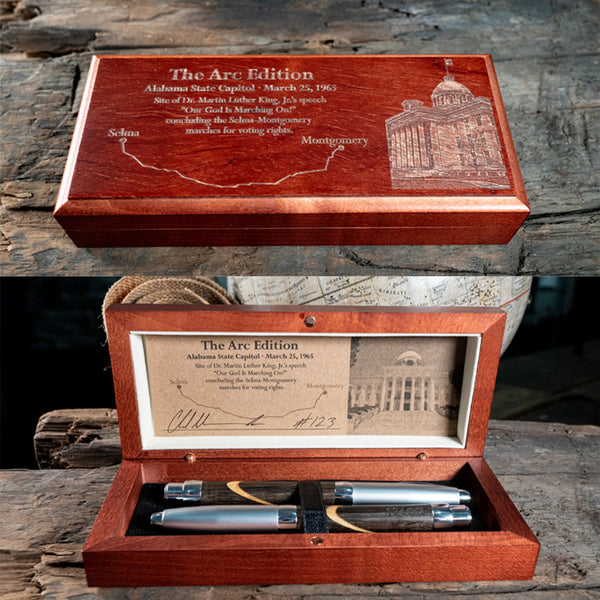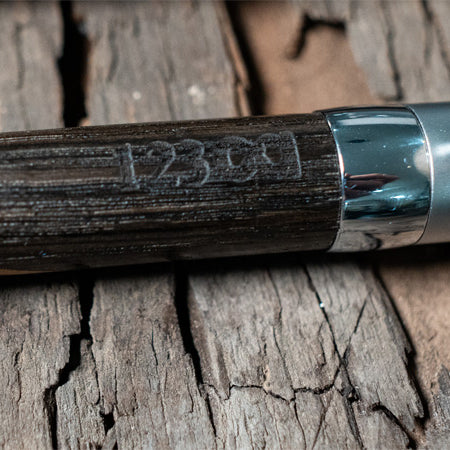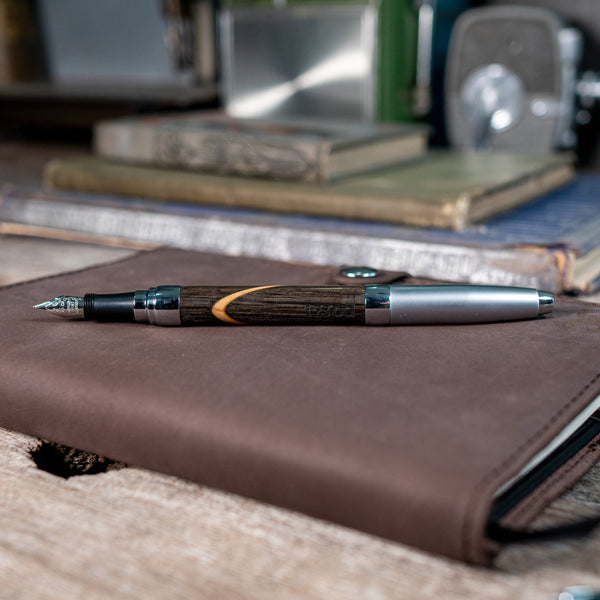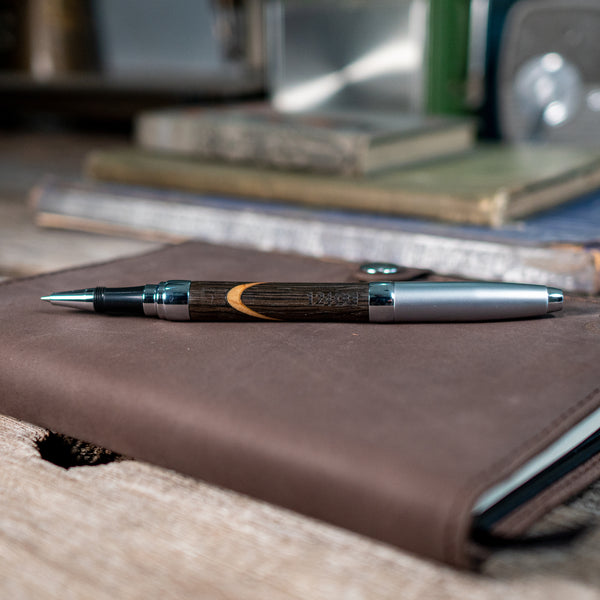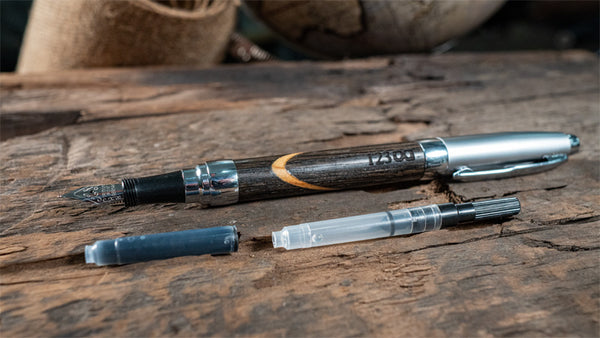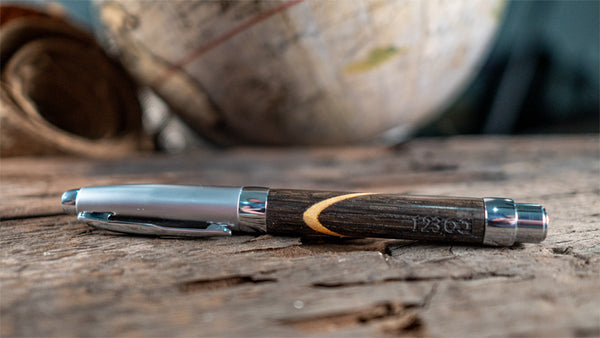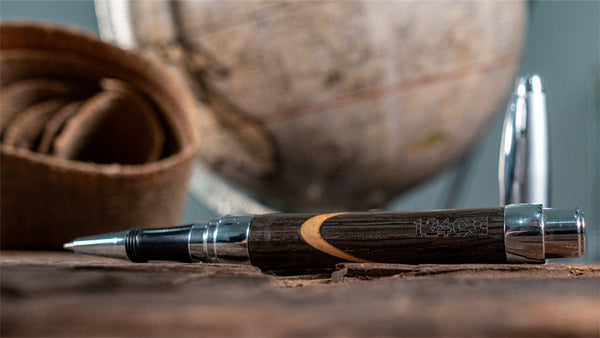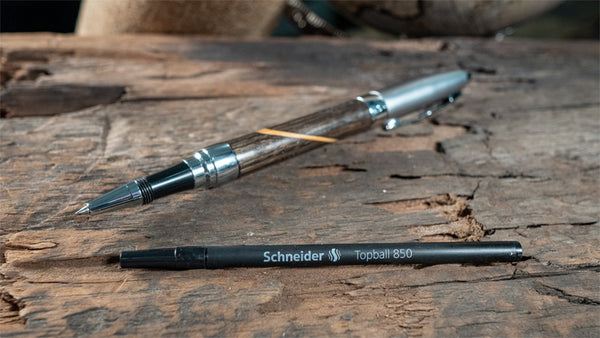 Made with wood that witnessed civil rights history.
The arc-shaped inlay comes from the building Dr. Martin Luther King, Jr. spoke in front of after the Selma voting rights march in 1965. That day he said, "The arc of the moral universe is long, but it bends toward justice." This pen commemorates the hope that each day brings us closer to a reality where we all gets to tell our own story.
Arc inlay made with wood from the Alabama State Capitol building.
Main wood body made with 5,000 year old bog oak.
A portion of each sale invests in the future of one of Chicago's most violent neighborhoods through our partnership with Good Kids Mad City - Englewood.
Medium barreled pen with cap that unscrews and posts to back for balance. Your choice of fountain, rollerball, or both.
Fountain pen with German-made nib. Steel core and medium-weight iridium tip for a smooth writing experience with a touch of line variation. Includes disposable ink cartridge and piston filler for your favorite bottled ink.
Rollerball is compatible with 110 mm Euro rollerball refills and ships with a Schneider Topball 850.
Set includes limited edition box, one fountain pen, and one rollerball.
Handmade in Chicago and guaranteed for life.
The Story
On March 25, 1965, Dr. Martin Luther King, Jr. stepped in front of a microphone on the steps of the Alabama State Capitol building in Montgomery, Alabama. Over the past five days, he and thousands of others had marched 54 miles from Selma, Alabama. On that day Dr. King said something incredibly powerful. "The arc of the moral universe is long, but it bends toward justice."
The Alabama State Capitol building had long been a seat of power in the segregationist South, serving as the first capitol of the Confederate States and housing their constitutional convention. George Wallace, the Alabama governor, was a staunch segregationist and refused to protect or recognize the protesters. Dr. King's choice to speak from these steps, in and of itself, was an act of strength and defiance. In 1985, the State Capitol building began its first significant renovation since the events of 1965. As part of this renovation a board was removed from the threshold. This board made its way into our hands in 2012. We kept it for 8 years, unsure how we could share a story that didn't feel like ours. And then we witnessed George Floyd's death, and the ensuing unrest. While we still don't feel like we have any answers, silence wasn't an option. So we released the Arc Edition on Kickstarter and promised to give back to the community somehow. This led us to form a partnership with Good Kids Mad City - Englewood.
GKMC - Englewood works in one of Chicago's most violent communities and gives kids life saving options, community, and hope. A portion of the sale from each Arc Edition pen is donated to their work, and you can donate directly to them here.
Feature Spotlight
Matte Metal Cap
Unscrews from the front of the pen and pressure fit posts to back for excellent balance while writing. Integrated pocket clip.
Limited Edition Numbering
Each pen is engraved with a limited edition number and includes a leather sleeve and a signed certificate of authenticity.
Rollerball Option
Elegant rollerball includes Schneider Topball 850 refill for a smooth writing experience. Compatible with all 110mm Euro rollerball refills.
Fountain Pen Option
Fountain pen uses a #5 German-made nib. Steel core and medium-weight iridium tip for a smooth writing experience with a touch of line variation. Includes disposable ink cartridge and piston filler for your favorite bottled ink.
Set with limited edition box.
The fountain pen & rollerball set includes the limited edition box.
Our Guarantee
The simplest and most powerful guarantee we could create.
If we made it, it is guaranteed for life. We will repair or replace anything.
If you buy it, you'll love it. If you don't, we'll work with you until you do, or you can return it for a full refund. 
No questions asked, no paperwork needed.
If you lose it, or it gets destroyed outside of reasonable use, we'll sell you a replacement at half price.
Lots of companies use words like "reasonable use" as a loophole. We don't. Wear and tear is part of reasonable use, and it is covered.
Shoot us a message at service@allegorygoods.com and let us know how we can help.
Shipping
Shipping Information
How long will my order take to arrive?
Our products are handcrafted, mostly to order. We make our smaller pieces in small batches of 10-20 items at a time. Because of the custom, handcrafted nature of our products, it usually takes us 2-3 business days to prepare your order for shipment.
Estimated shipping times begin when your order is shipped and vary by the carrier and service you choose. First-class and ground services usually take up a to a week to deliver to the United States and international first-class services usually take upwards of 3-4 weeks to deliver once we ship your package.
Please note that all carriers are experiencing delivery delays right now. It's important to us that you get your order as quickly as possible, but unfortunately after we drop off your package for shipping the delivery timeline is out of our hands. USPS and FedEx will be your best bet for tracking down information about your package. If you are having trouble getting answers, or if you just want some peace of mind, feel free to shoot us a message with questions or concerns at service@allegorygoods.com.
How much does shipping cost?
We have negotiated rates with USPS and FedEx. The shipping price you'll see reflected at check-out is the actual price we pay to ship to you, no additional mark-up, and we've chosen not just hide the shipping cost in the price of our products. Choose whichever options works best for your budget and delivery timeline. Your shipping fees will be based on the weight of your order. We offer first-class, ground, and expedited shipping options through both USPS and FedEx. Please note, you should still allow time for us to craft your products even with the expedited shipping options (see above).
Which carriers do you

 

use?
We ship with USPS and FedEx.
Do you

 

ship internationally?
Yes! We ship internationally with both USPS and FedEx. If you choose USPS international shipping, your package will be handed off to your local postal system when it enters your country. International customers will be required to pay the applicable import VAT and duties in their home country prior to delivery of their package. 
What if I have special circumstances?
We love that our customers often order from us for special, sometimes last minute gifts! We do our very best to get those packages shipped as quickly as possible so they can arrive in time. If you have a special circumstance please email us at service@allegorygoods.com. We haven't missed a deadline yet!
The Writer
This was a gift to a writer that is publishing a book on slavery in Southern Illinois. This gift was truly a gift because this writer was able to walk in some of Martin Luther King's footsteps. I am sure this pen will give this writer inspiration to keep writing about the wrongs of our nation. By the way--the writer was beyond thrilled!!!
Hi quality product exceeded my expectations
I gave the Arc Edition (made with historic wood) pen set as gifts to a few of my team members at work. I'm very particular about writing instruments and pens, in particular. This is a solid, properly weighted pen with nice roller ball and fountain pen nib. After checking these out when they arrived, I had a lot of confidence in passing them along. I appreciate the historic significance of the backstory on the wood. Thanks.
I will buy anything Allegory makes, pretty much
Decided to treat myself to the Arc as an end of year present, after having bought several of their pens, a wallet and, most recently, their portfolio.
The history embedded in the pen makes it something special in its own right, but like everything they make the craftsmanship is just gorgeous, from the leather carrying case which came as a pleasant added surprise to the pen itself, which writes beautifully.
They accidentally sent me the fountain pen version when I'd ordered the ballpoint, but were swift to send out the correct part, and I decided to pay a nominal fee to keep both parts, so I can now use it for fancy fountain pen moments too!
Keep it up Allegory!
Amazing Construction, Amazing Meaning
I backed the Arc Edition's Kickstarter and got two of the limited edition variants as gifts for family. These pens embody Allegory Goods's amazing craftsmanship and knack for making their products meaningful as well as beautiful. Comfortable to use, gorgeous to display.
Amazing First Purchase
I purchased this pen while it was on indiegogo. Originally purchased for the historical significance and didn't know how often I would actually write with it. It has become my every day pen. The feel and the writing itself are top notch. The physical pen itself is amazing. After this, I have purchased 2 more pens that I enjoy as well.