Walker Portfolio | Medium Leather Padfolio & Tech Case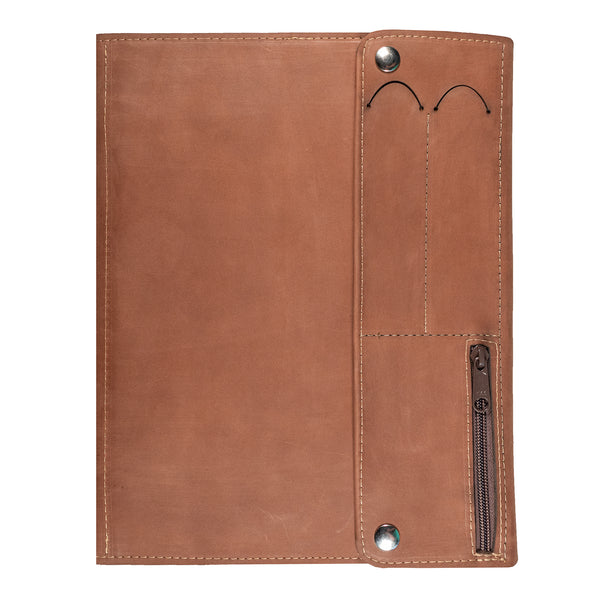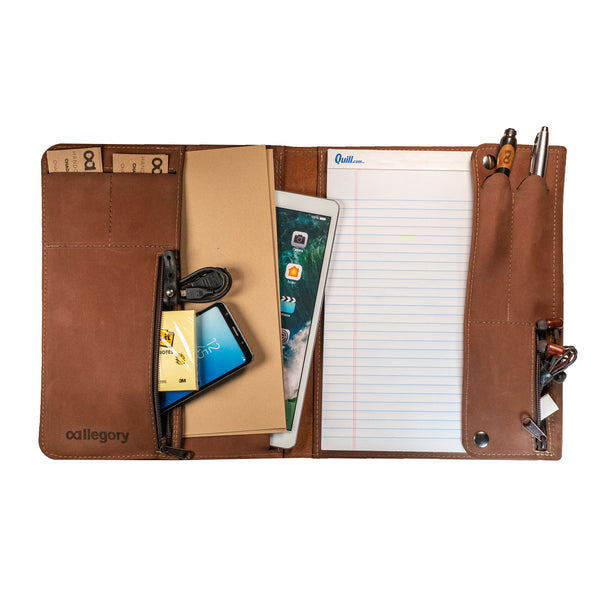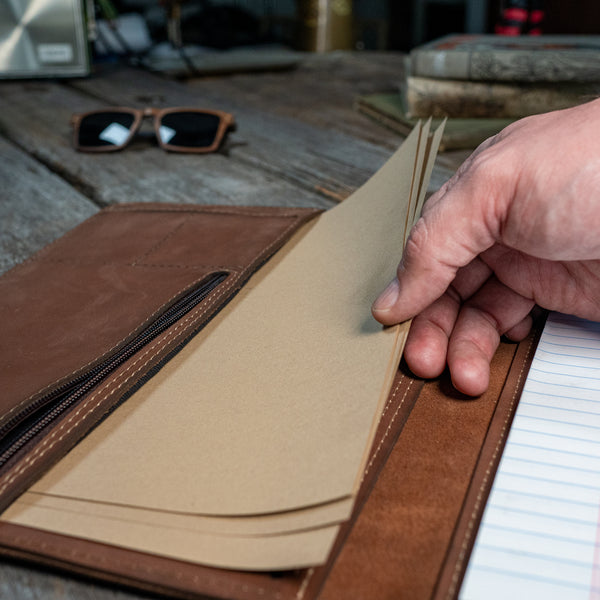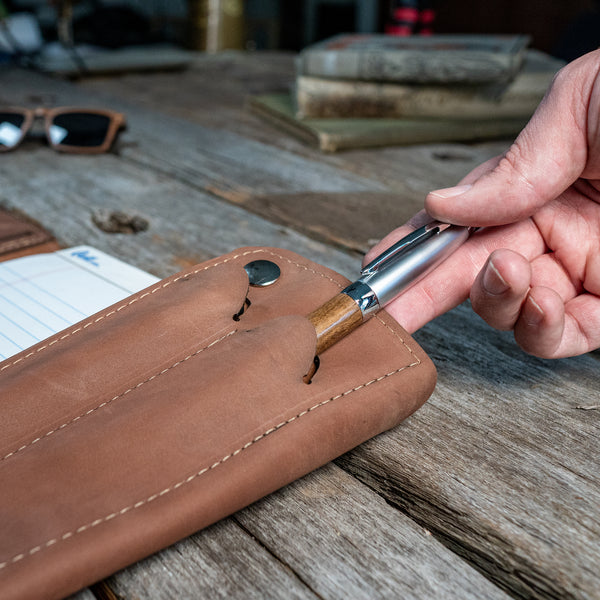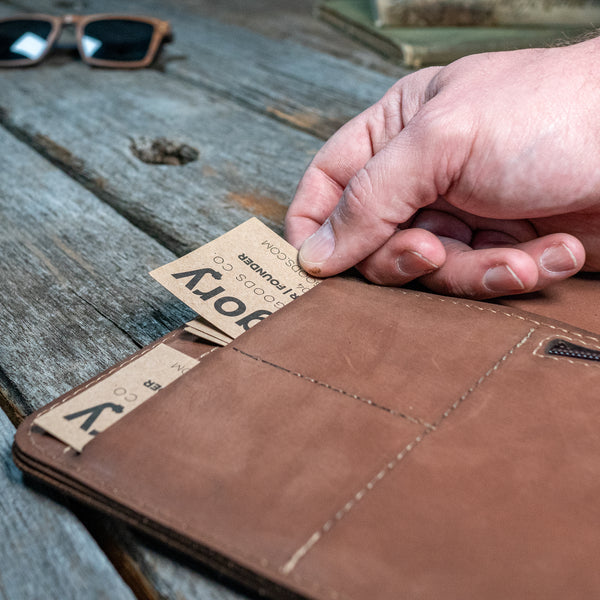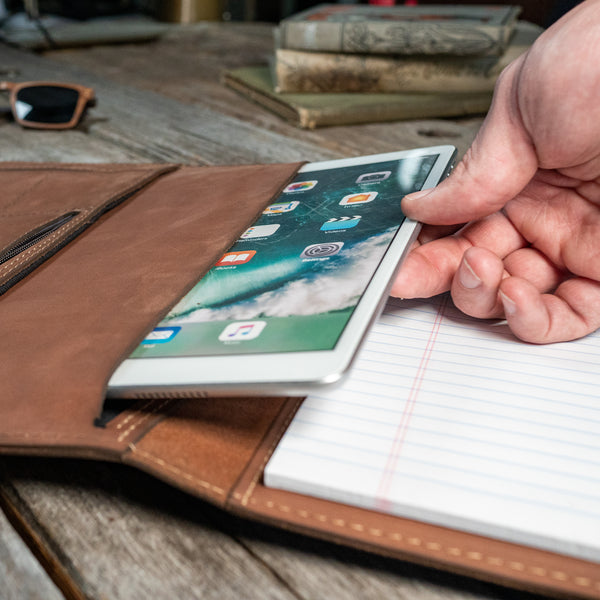 Leather Padfolio & Tech Case for Letter/A4 Pads, Tablets, And Slim Laptops Up To 11"
Snap closure with storage for two pens and a zippered utility pocket.
Document pocket, zippered utility pocket, and two note card pockets in the interior. 
Includes a basic pad, compatible with any A4/letter sized pads.

Tech sleeve holds tablets and slim laptops with screens up to 11 inches.
Heirloom quality construction with 4.5 oz leather and polymer cores.
Made in Chicago and guaranteed for life.
The Visionary Portfolio Collection is the perfect blend of tech and pen and paper for the modern business superhero. Three styles, inspired by history's great visionaries, and four sizes ensure you can always find your perfect secret weapon.
A Quick Tour
Pen Sleeves in Closure
Two built-in sleeves allow you to securely store pens where they can be reached without opening the portfolio, while keeping them safe and protected.
Outer Utility Pocket
A small zipper pouch sits below the pen sleeves in the closure, perfect for stashing smaller stationary or tech items.
Business Card Pockets
The inside front cover is loaded with storage. It starts with these business card pockets near the top corner.
Interior Utility Pocket
Just below the business card pockets is a zippered pocket big enough for standard-sized smartphones. It also works as a built-in pencil case or tech storage compartment.
Document Pocket
The document pocket secures letter sized papers, brochures, reports, or pages from the pad you'd like to save for later review.
Tablet Sleeve
The lined pocket just under the document pocket holds tablets up to 10.5". It can also serve as a second document pocket.
Inspiration
The Walker Series' original design was the seed for the Visionary Collection. Its snap storage closure and integrated tech storage options inspired the entire collection through its success and customer feedback over four years and thousands of happy customers. So when we created the Visionary Collection, we wanted to honor a true inspiration. Madam C.J. Walker is just that. She holds the Guinness World Record as the first female self-made millionaire. She was an African American woman born in the South just after the Civil War, orphaned at the age of seven, and yet went on to break barriers and build a business empire that created opportunities for tens of thousands of women of color. Madam Walker inspires us to face challenges with determination, and to use our success to create opportunity for others.
Our Guarantee
The simplest and most powerful guarantee we could create.
If we made it, it is guaranteed for life. We will repair or replace anything.
If you buy it, you'll love it. If you don't, we'll work with you until you do, or you can return it for a full refund. 
No questions asked, no paperwork needed.
If you lose it, or it gets destroyed outside of reasonable use, we'll sell you a replacement at half price.
Lots of companies use words like "reasonable use" as a loophole. We don't. Wear and tear is part of reasonable use, and it is covered.
Shoot us a message at service@allegorygoods.com and let us know how we can help.
Shipping
Shipping Information
How long will my order take to arrive?
Our products are handcrafted, mostly to order. We make our smaller pieces in small batches of 10-20 items at a time. Because of the custom, handcrafted nature of our products, it usually takes us 2-3 business days to prepare your order for shipment.
Estimated shipping times begin when your order is shipped and vary by the carrier and service you choose. First-class and ground services usually take up a to a week to deliver to the United States and international first-class services usually take upwards of 3-4 weeks to deliver once we ship your package.
Please note that all carriers are experiencing delivery delays right now. It's important to us that you get your order as quickly as possible, but unfortunately after we drop off your package for shipping the delivery timeline is out of our hands. USPS and FedEx will be your best bet for tracking down information about your package. If you are having trouble getting answers, or if you just want some peace of mind, feel free to shoot us a message with questions or concerns at service@allegorygoods.com.
How much does shipping cost?
We have negotiated rates with USPS and FedEx. The shipping price you'll see reflected at check-out is the actual price we pay to ship to you, no additional mark-up, and we've chosen not just hide the shipping cost in the price of our products. Choose whichever options works best for your budget and delivery timeline. Your shipping fees will be based on the weight of your order. We offer first-class, ground, and expedited shipping options through both USPS and FedEx. Please note, you should still allow time for us to craft your products even with the expedited shipping options (see above).
Which carriers do you

 

use?
We ship with USPS and FedEx.
Do you

 

ship internationally?
Yes! We ship internationally with both USPS and FedEx. If you choose USPS international shipping, your package will be handed off to your local postal system when it enters your country. International customers will be required to pay the applicable import VAT and duties in their home country prior to delivery of their package. 
What if I have special circumstances?
We love that our customers often order from us for special, sometimes last minute gifts! We do our very best to get those packages shipped as quickly as possible so they can arrive in time. If you have a special circumstance please email us at service@allegorygoods.com. We haven't missed a deadline yet!
Perspective 4 yrs later
I came back here after 4 years to order a new one for my friend who is graduating. This is my third padfolio but the first to last 4 years. It was twice as expensive but you really get what you paid for: US made (quality and crazy good guarantee), the higher leather quality is noticeable (it is my third padfolio but this lasts), and my most recent complement for it was a week ago on the patina (not my thing but love complements). I highly recommend this product and respect the quality enough to be back to get one for someone else. Combined with a good leather satchel/bag (2 compartment to carry laptop). When my current bag breaks, it is not from allegory, I will be back here to get one.
Great, ageless portfolio
Only had it for couple of weeks but I love it. The leather is warm to the touch and robust. I know this thing will age beautifully and look even better in a few years. Yes, it wasn't cheap but I expect this to be the last portfolio I ever buy.
Get it for your grads as this thing will last them a lifetime.
Great Product
Absolutely fantastic, would absolutely recommend.
5 Stars!
I have had this padfolio since 2018 and it is arguably the most important piece of Kit I have as a professional. It is my favorite things that I touch every single day. I cannot thank the team who created this enough for helping gift to me such an incredibly important tool for my craft. These stains you see on my photo are the different ink colors I have written on within this. It has been years in the making. I love this thing a ton.
Perfect for Hybrid Office/Home
This is such a wonderful padfolio. It has enough storage to put most of my desk things in. It's so easy to fold up and go that it makes for the easiest portable desk top I've ever had.
Additionally, the compliments I get at work on it are pretty consistent.