Flight Satchel | Slim Leather Laptop Bag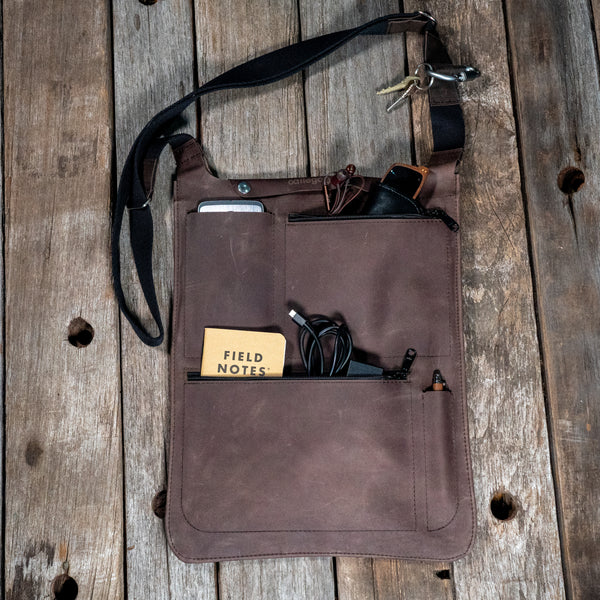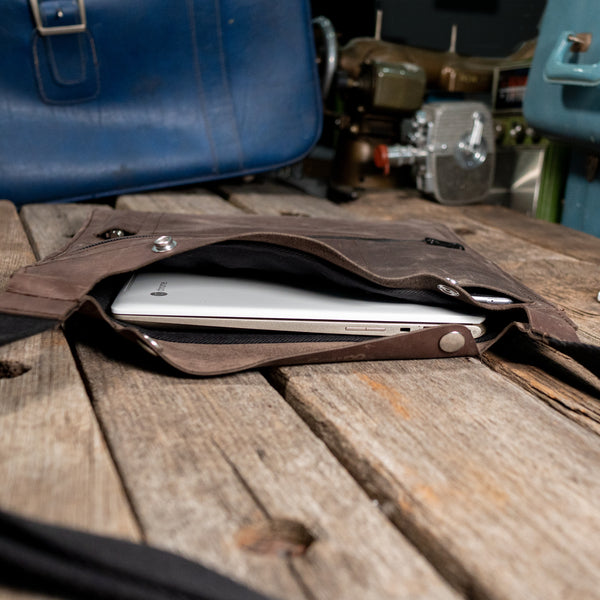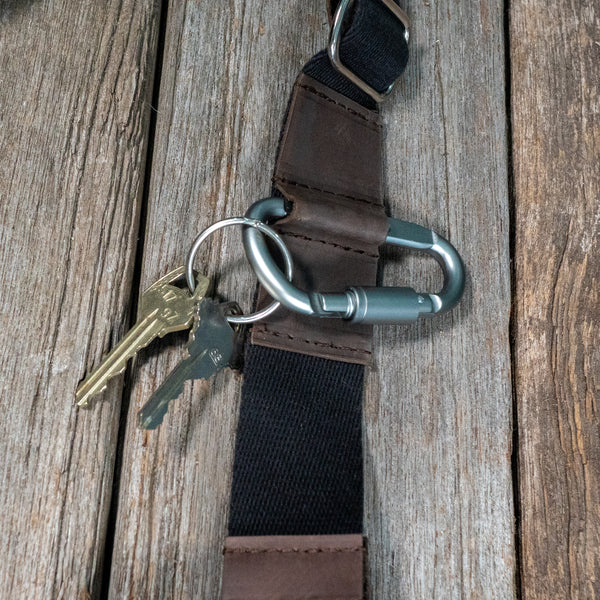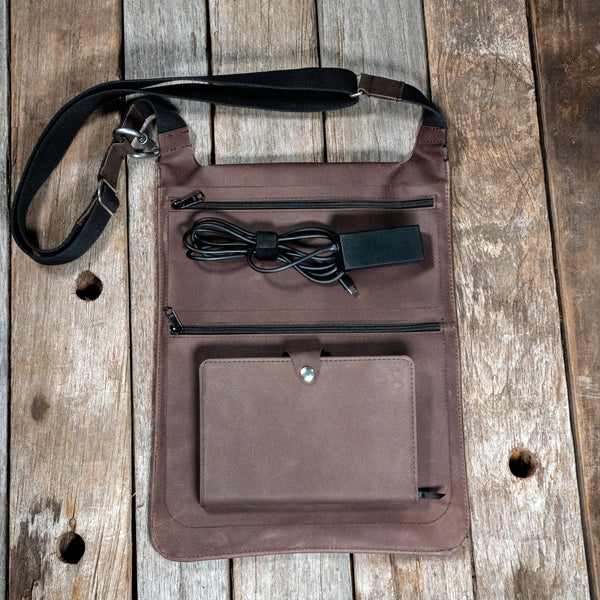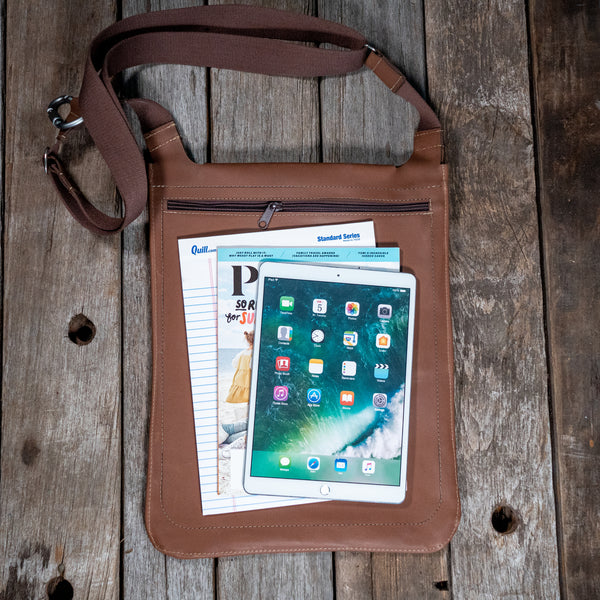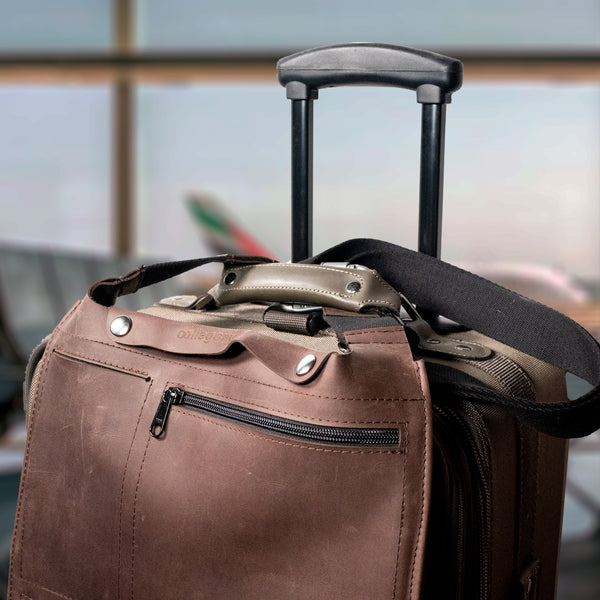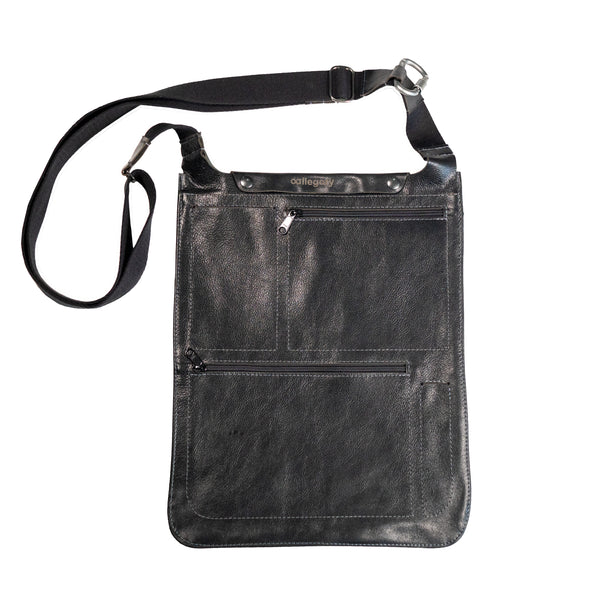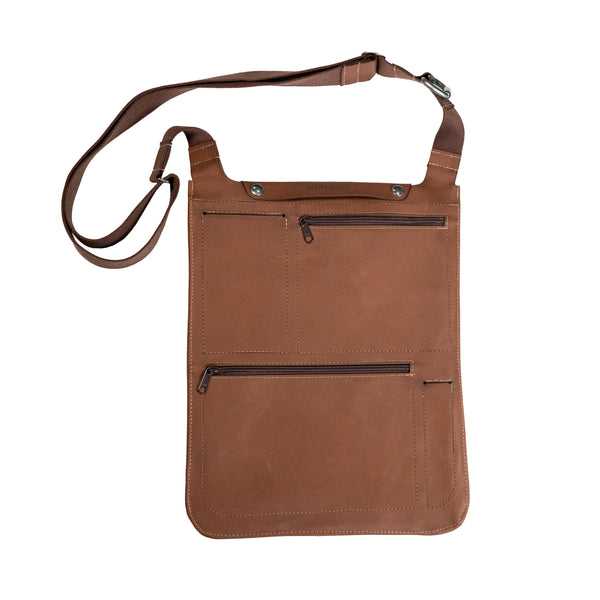 Minimalist laptop bag for the tech nomad.
The Flight Satchel is great for everyday use and shines when you hit the road. It holds large laptops (up to 17" screens), has an array of useful exterior pockets for your essentials, attaches to your carry-on bag or packs flat in your suitcase, has a durable body made from two continuous pieces of leather, and has a customizable back panel.
Durable outer shell crafted from two continuous pieces of leather, no failure points.
Slim outer pockets for your essentials - two zippered utility pockets and two sleeves, one for your phone or battery back and one for your favorite pen.
Back panel customizable with either one large pocket (holds tablets, magazines, etc.) or two smaller utility pockets (one just right for a laptop charger and one for an A5-sized journal or a book).
eatu
Main compartment holds laptops up to 17".
Made in Chicago and guaranteed for life.
Back Panel Options
One Pocket
One large pocket ideal for a tablet, documents, or magazines.
Two Pocket
One pocket ideal for chargers and cables. Another the perfect size for an A5 journal or a book.
Feature Highlights
Carry-on Attachment
The Flight Satchel's carabiner attaches to the metal ring on the opposite strap, providing the perfect way to attach the bag to the handle of your carry-on luggage during air travel.
Key/Water Bottle Clip
When you're not traveling, the carabiner is the perfect place to securely attach your keys or water bottle and keep them in easy reach.
Front Panel Storage
The front panel of the Flight Satchel has four pockets: two zippered utility pockets and two sleeves for your phone and favorite pen.
Main Compartment
Holds 17" laptops and features a snap closure and bull denim lining.
Our Guarantee
The simplest and most powerful guarantee we could create.
If we made it, it is guaranteed for life. We will repair or replace anything.
If you buy it, you'll love it. If you don't, we'll work with you until you do, or you can return it for a full refund. 
No questions asked, no paperwork needed.
If you lose it, or it gets destroyed outside of reasonable use, we'll sell you a replacement at half price.
Lots of companies use words like "reasonable use" as a loophole. We don't. Wear and tear is part of reasonable use, and it is covered.
Shoot us a message at service@allegorygoods.com and let us know how we can help.
Shipping
Shipping Information
How long will my order take to arrive?
Our products are handcrafted, mostly to order. We make our smaller pieces in small batches of 10-20 items at a time. Because of the custom, handcrafted nature of our products, it usually takes us 2-3 business days to prepare your order for shipment.
Estimated shipping times begin when your order is shipped and vary by the carrier and service you choose. First-class and ground services usually take up a to a week to deliver to the United States and international first-class services usually take upwards of 3-4 weeks to deliver once we ship your package.
Please note that all carriers are experiencing delivery delays right now. It's important to us that you get your order as quickly as possible, but unfortunately after we drop off your package for shipping the delivery timeline is out of our hands. USPS and FedEx will be your best bet for tracking down information about your package. If you are having trouble getting answers, or if you just want some peace of mind, feel free to shoot us a message with questions or concerns at service@allegorygoods.com.
How much does shipping cost?
We have negotiated rates with USPS and FedEx. The shipping price you'll see reflected at check-out is the actual price we pay to ship to you, no additional mark-up, and we've chosen not just hide the shipping cost in the price of our products. Choose whichever options works best for your budget and delivery timeline. Your shipping fees will be based on the weight of your order. We offer first-class, ground, and expedited shipping options through both USPS and FedEx. Please note, you should still allow time for us to craft your products even with the expedited shipping options (see above).
Which carriers do you

 

use?
We ship with USPS and FedEx.
Do you

 

ship internationally?
Yes! We ship internationally with both USPS and FedEx. If you choose USPS international shipping, your package will be handed off to your local postal system when it enters your country. International customers will be required to pay the applicable import VAT and duties in their home country prior to delivery of their package. 
What if I have special circumstances?
We love that our customers often order from us for special, sometimes last minute gifts! We do our very best to get those packages shipped as quickly as possible so they can arrive in time. If you have a special circumstance please email us at service@allegorygoods.com. We haven't missed a deadline yet!
Everything I hoped it would be and more!
I was skeptical about this bag. I wrote the company with a question and while it took a couple of days, I did get an answer - from a real person!!!
The bag is amazing. It is so well-constructed and fits way more than I thought it would! I've been trekking to and from the office with my 17" laptop, mouse, iPad, two notebooks, a pen, plus hand sanitizer, mints, Kleenex and other various items. I clip my water bottle to the carabiner. It's perfect. I've already gotten many compliments.
You need this satchel
This satchel is truly as well made and soft as it looks. The construction is outstanding and the leather is soft, yet strong. The shape and design are eye catching and it functions just as advertised. I'm thrilled with the quality for the cost! Bravo Allegory Goods!
Incredible Craftsmanship
I am very happy with the flight satchel. I've not used it much just yet, but the workmanship that went into it was incredible. The customer service has been excellent too. I am looking forward to seeing how it ages over the years.
Beautiful, minimal bag
I gave this bag to a frequently-traveling friend who also has a streamed-line, minimalistic style. She uses it continuously over 4 years and it has worn beautifully. She also loves the flat profile and how it doesn't bulk up her travel style. Sort of wish I had kept it for myself! :)
My daily bag for over 4 years...
Love this bag! It's the perfect size for every-day-use. It's been through hell and back, I've used it everyday for over 4 years. Holds my laptop, journal, cords and pens, random stuff and whatever couple books I'm reading. I get tons of compliments on it and I love how the leather is aging. I expect this to be accompanying me wherever I go 20 years from now. Never had a single problem with the zippers, buttons, strap, etc...Ageless class. Personally recommended the bag to several friends over the years. Thank you!